The Listenwise elementary podcast lesson collection features carefully curated podcasts designed to engage and excite students in grades 2-5. These short audio stories on current events and relevant topics in ELA, social studies, and science can support student literacy and listening skills, build vocabulary and content knowledge, and help students make connections between classroom learning and the broader world.
We've taken Listenwise's success formula and applied it to carefully selected podcasts for our younger students. As always, we have curated stories that will grab students' attention but use less complex language and vocabulary. In addition to using high-interest content from NPR, we have sourced stories from respected podcasts focused on a younger audience, including But Why, Earth Rangers, Tumble, and Book Club for Kids. The authenticity of these real-world stories is a big motivator for kids and can bring related curriculum topics to life!
To learn more about where we source our elementary podcasts, see Elementary Podcast Lesson Sources on Listenwise.
What is in the Elementary Podcast Lesson Collection?
The elementary collection includes three types of lessons:
Standards-aligned elementary lessons
Weird News
Current events
Standards-aligned elementary lessons are 3-5 minute long podcasts on engaging topics in ELA, social studies, and science. Each lesson includes instructional activities before, during, and after listening, listening organizers, comprehension and discussion questions, and related external materials. A brief synopsis written specifically for elementary students helps spark interest, and an auto-scored multiple-choice quiz assesses four key listening comprehension skills: recognizing literal meaning, understanding vocabulary in context, making inferences, and identifying the main idea. Lessons address popular topics such as hibernation, the Lewis and Clark expedition, and ocean pollution.
Weird News podcasts are 30-second stories that are funny, unexpected, and engaging. Each quick story has several highlighted vocabulary words incorporated into comprehension and discussion questions. For example, Cat's Great Escape, Beekeeper Police Unit, and Alligators Help with Social Distancing all offer intrigue, humor, and great opportunities to learn academic vocabulary in context.
Current events feature news stories grabbed from the headlines that are interesting and instructive. A new elementary-level current event is published every Wednesday, with listening comprehension and discussion questions and an auto-scored multiple-choice quiz. These stories work well for a brief weekly current events lesson or listening comprehension skills practice and assessment. Timely stories about the end of the handshake and zoos reopening are chosen for their high engagement value.
Elementary lessons have been designed for use in classroom, remote, and hybrid settings. In school they can be used with any computer configuration, from one-computer classrooms to one-to-one classrooms. They can be used with the whole class at once, in a station-rotation model, or with students working independently on their own computers. Materials such as listening organizers and listening comprehension questions are designed to be either printed or used online. Lessons and quizzes can be assigned through Google Classroom, and quiz data can be tracked through a data dashboard.
New podcasts are added regularly to our growing elementary collection. Search the full collection here.
How to Search for Elementary Podcast Lessons, Weird News, and Current Events
To find elementary lessons:
Go to your Teacher Dashboard. Click "Lessons." In the drop-down menu, click "Search."
Select the filters you prefer. For "Grade Level," be sure "Elementary" is checked and "Middle School" and "High School" are not checked. Under "Type," be sure "Lessons" is checked and "Current Events" and "Collection" are not checked.
If you want to search for a specific topic, simply enter the topic into the search bar after making sure the filters are correctly checked.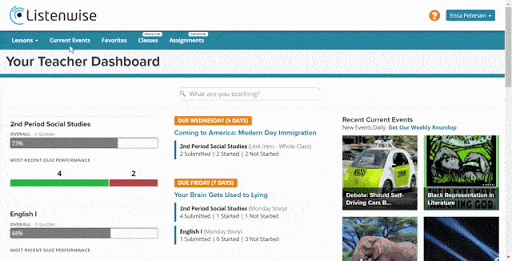 To find Weird News:
Go to your Teacher Dashboard. Click "Lessons." In the drop-down menu, click "Search."
Enter "Weird News" in the search bar, and hit the "Return" key.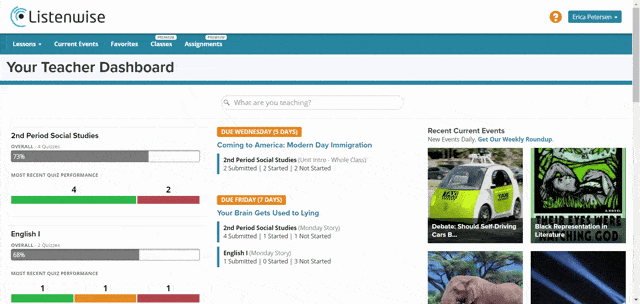 To find current events with quizzes:
Go to your Teacher Dashboard. Click "Lessons." In the drop-down menu, click "Search."
Scroll down to "Type" and make sure "Current Event" is checked and "Lessons" and "Collections" are not checked.
Check "with Quiz" and click "Search."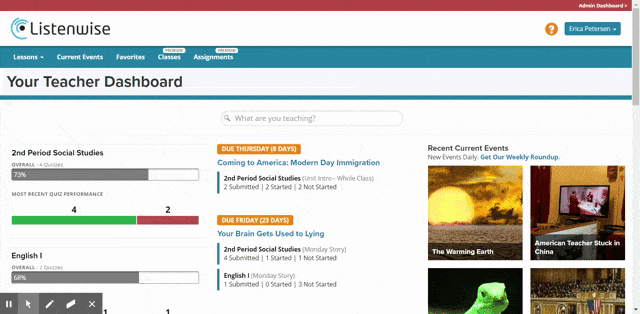 To learn how one 4th grade teacher used a podcast to explore bird migration and teach vocabulary, see Teaching with Podcasts in the Elementary Classroom.
For ideas on using podcasts in elementary classrooms, see 4 Ways to Integrate Podcasts into Elementary Instruction.
For a quick tour of podcasting with elementary students, view our webinar Remote Learning with Elementary Grades.