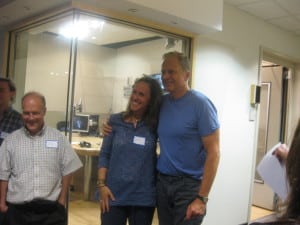 What do On Point's Tom Ashbrook and Listenwise teachers have in common? They met recently at a Listenwise workshop at WBUR. The workshop focused on how Humanities educators can use public radio in the classroom. Listenwise hosted a group of Humanities Curriculum leaders for an auditory learning workshop at the WBUR studios. Former WBUR Reporter (and Listenwise founder) Monica Brady-Myerov, shared the latest research on auditory learning and cognitive processing, particularly the relationship between listening comprehension and reading comprehension.
The workshop was co-led by Brookline social studies teacher Susan Balogh. She has been using Listenwise regularly with her 7th grade social studies classes to bring them factual information about current events, such as the Unrest in Baltimore story. She also uses Listenwise lessons such as Citizenship in Athens, to bring ancient history events to life for her students.
At the WBUR workshop Balogh demonstrated a lesson using Hebrew as an Evolving Language. She said she would tell her students to make a movie in their minds while they listen. Then she would lead them through a discussion using Listenwise questions such as "What makes the history of the Hebrew language distinct from other languages"? Teachers saw how a public radio story captures and retains student interest.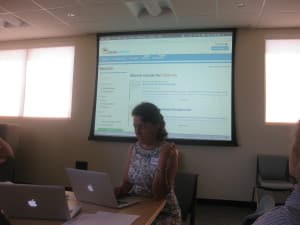 Susan's students enjoyed listening as a pair and sharing their own insights in an informal setting. Because students view stories through their own set of experiences, the discussions served as a continuation of learning and an opportunity to contextualize different ideas and ways of thinking. To reinforce listening organization and higher order processing skills, she asked her students to create their own table of contents for each story and answer inferential questions.
Other teachers also raised effective listening techniques. In response to a point about the challenges facing student listening, one middle school teacher from Weymouth stated that she has her students imagine a movie in their mind to activate listening. A high school teacher from Revere, who teaches ELL, talked about her success using Serial to connect her students to their parents lived experiences.
The humanities workshop was a resounding success. It was wonderful to connect with and learn from so many innovative educators. The teachers also loved touring the WBUR studios! They met Tom Ashbrook, members of the Radio Boston and Here and Now staff and local reporters. If you are interested in attending the next WBUR workshop contact, adam@listenwise.com.