Listenwise Webinars:
Watch our latest webinars for instructional podcast lesson ideas.
These 45-minute conversations explore the power of podcasting in classrooms. Learn how Listenwise can support your school/district this year.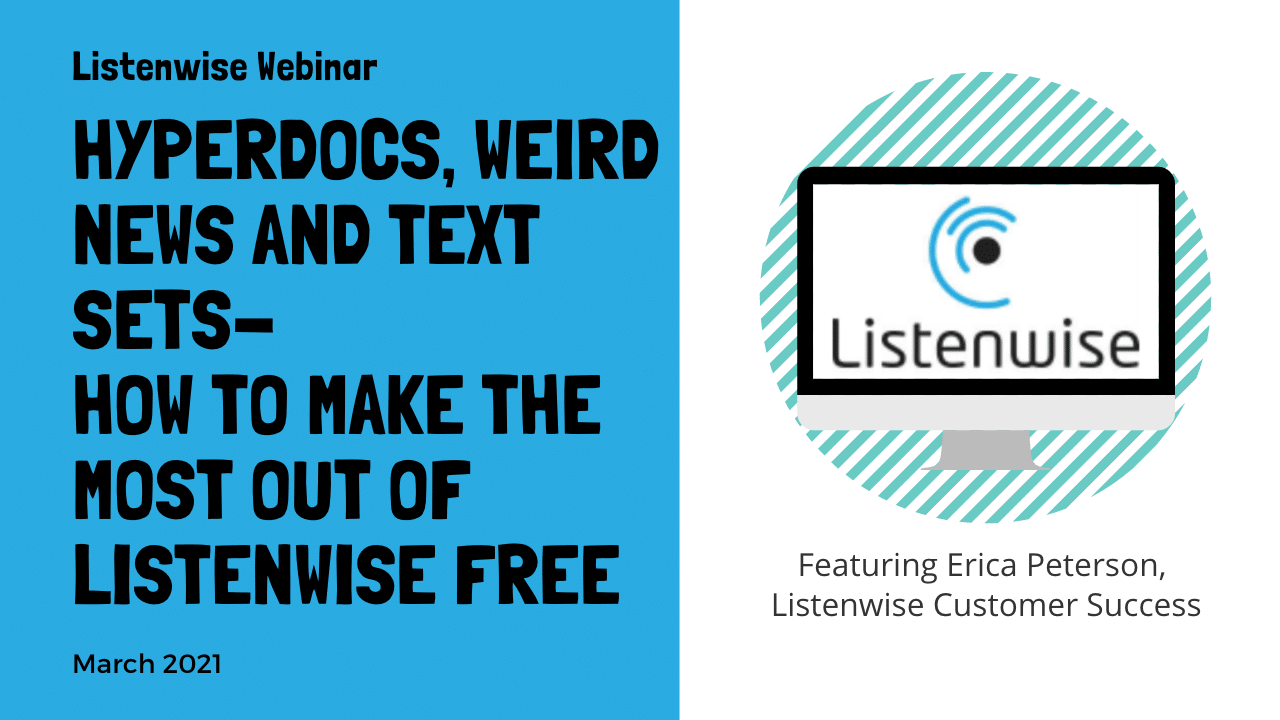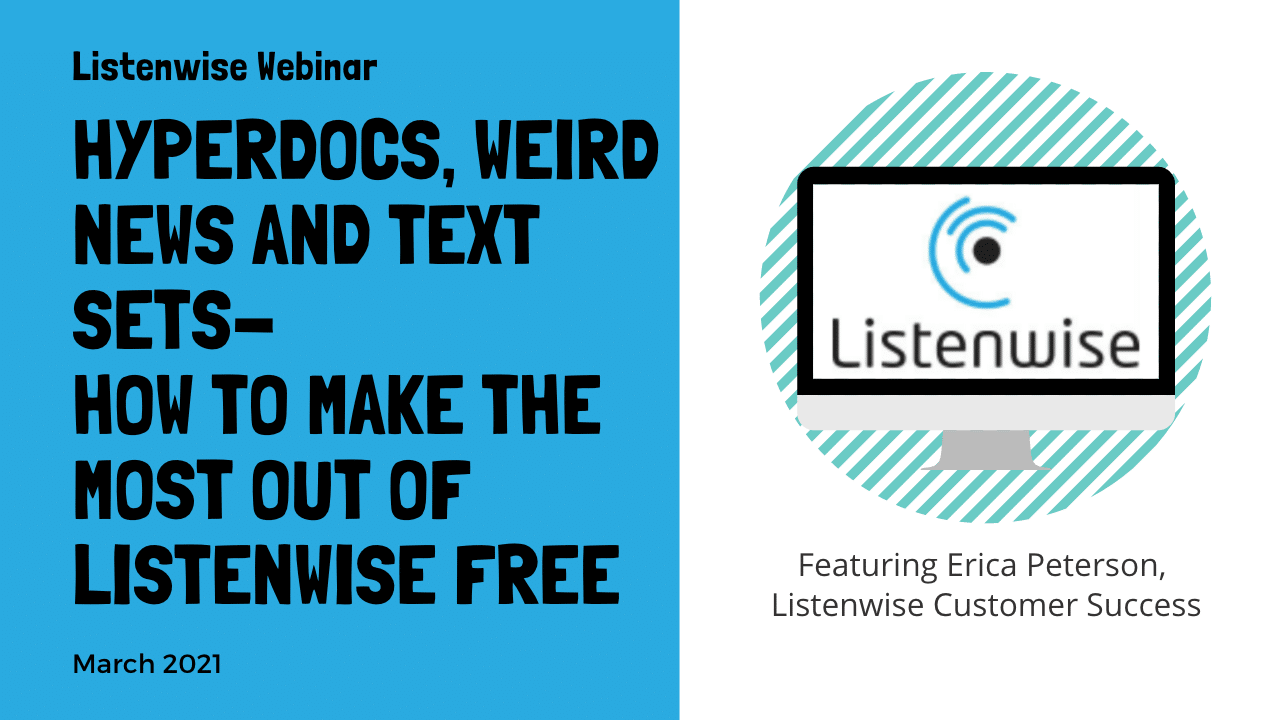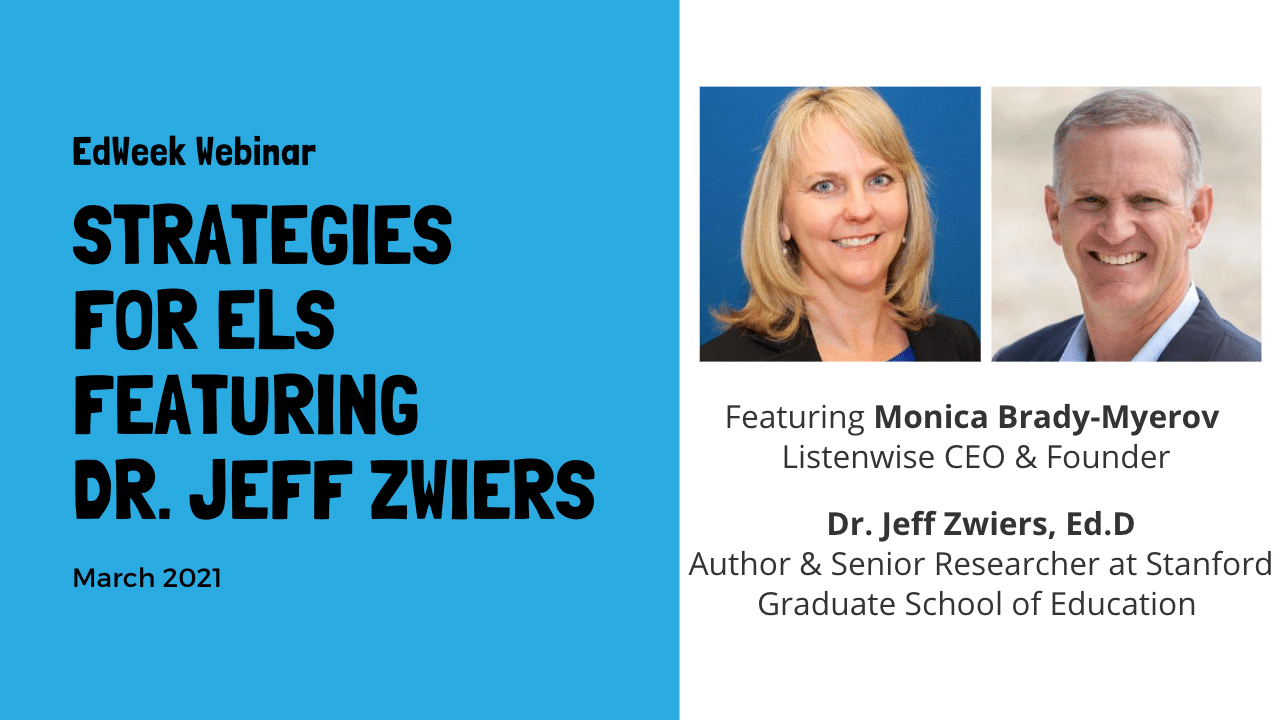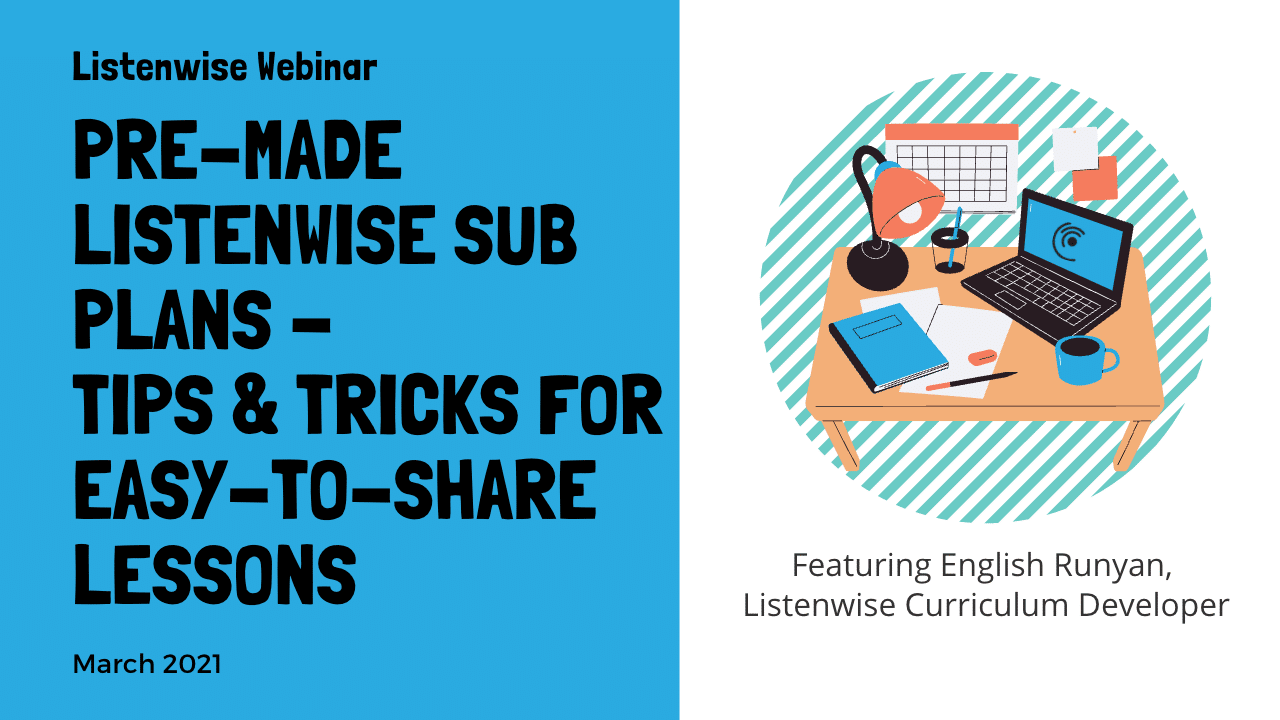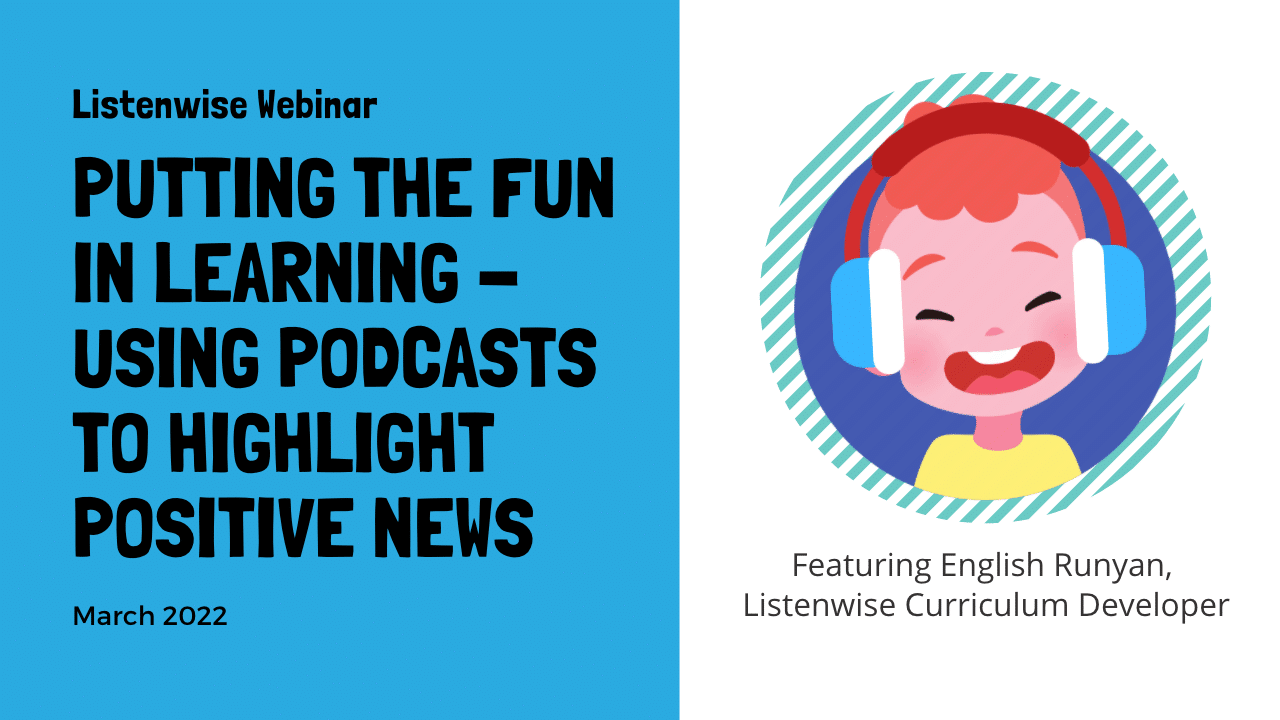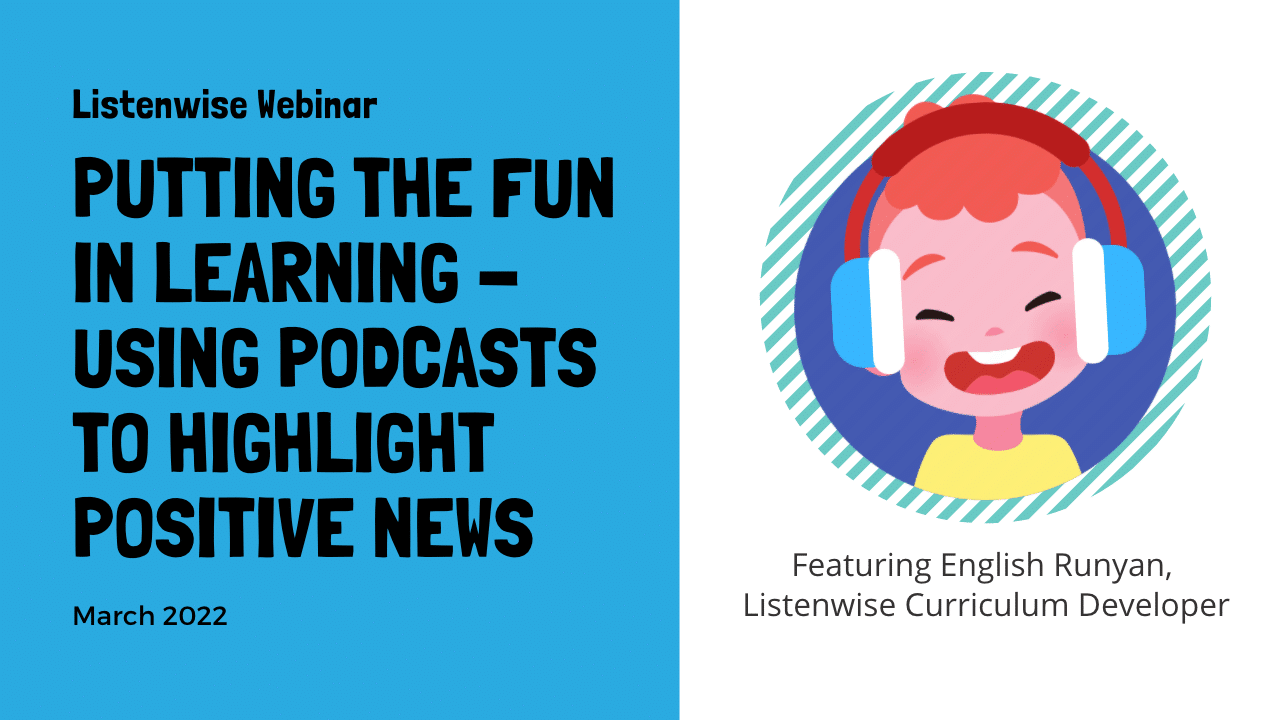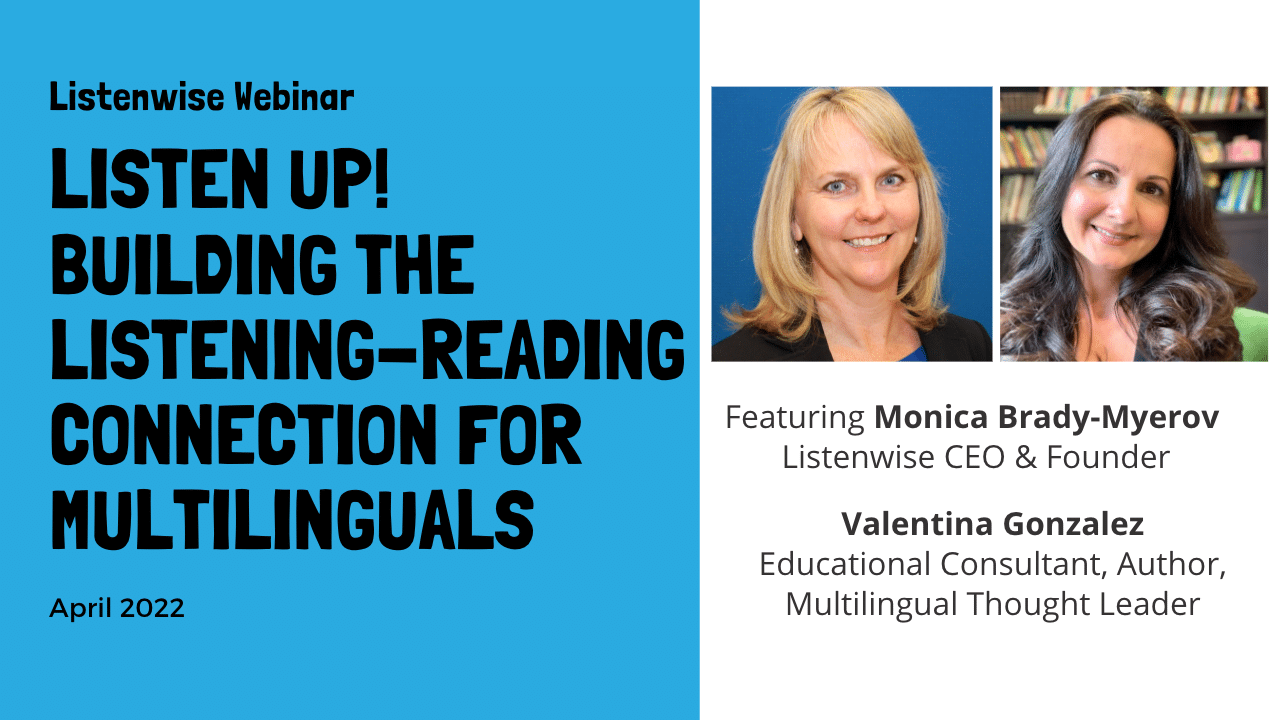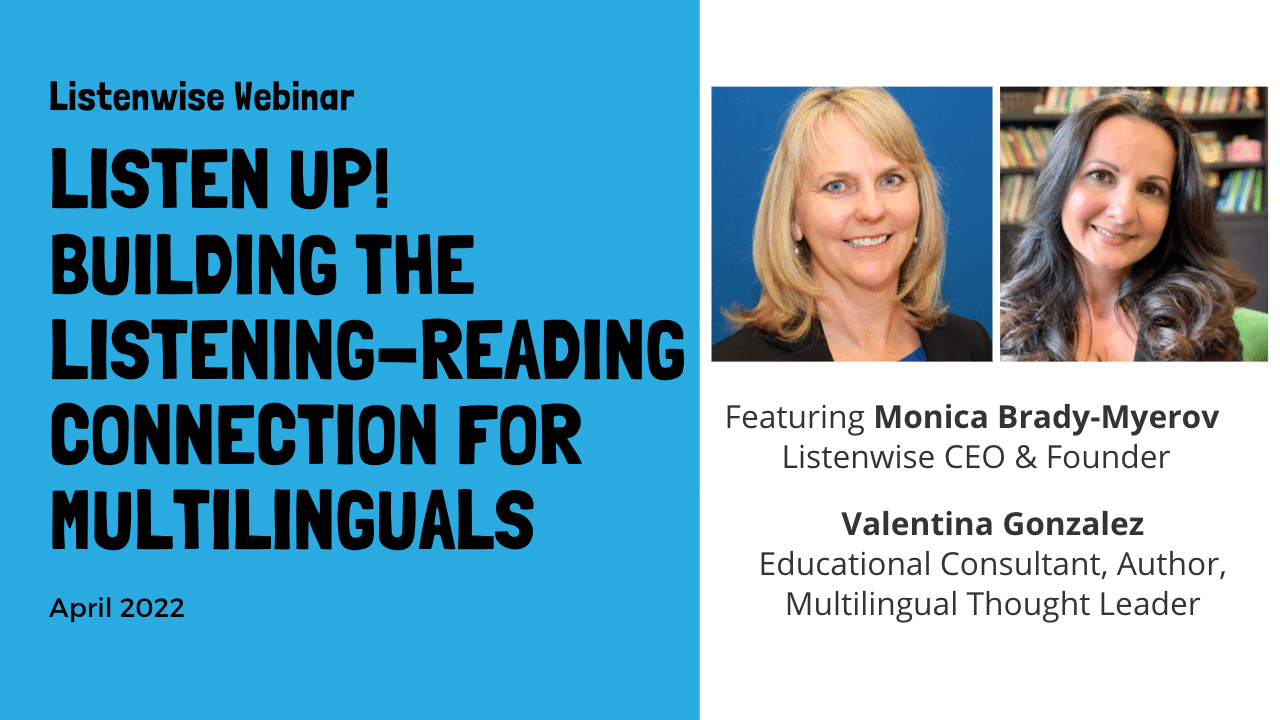 Hyperdocs, Weird News, and Text Sets, Oh My! — How to Make the Most Out of Listenwise Free
Recording Available
With a free Listenwise teacher account you can use authentic audio resources from Listenwise to bring non-fiction to life by accessing our current event podcast collection.
Erica will walk educators through 3 engaging teaching activities to make the most out of Listenwise free access-

Hyperdoc lessons

 

Weird News

Text sets

Strategies for English Learners Featuring Dr. Jeff Zwiers and Monica Brady-Myerov (EdWeek)
Recording Available
Stanford's Dr. Jeff Zwiers and author Monica Brady-Myerov will share listening & speaking teaching strategies to help English learners acquire academic vocabulary using podcasts.
Drawing from Zweirs' book, "Next Steps with Academic Conversations" and Brady-Myerov's new book "Listen Wise: Teach Students to be Better Listeners," attendees will hear updated research findings and instructional practices to build students authentic active listening, critical thinking and academic speaking skills.
Pre-Made Listenwise Substitute Plans - Access 3 Tips & Tricks for Easy-to-Share Lessons
Recording Available
English will walk attendees through 3 instructional strategies to help you with lesson planning, along with the actual plans drafted out, paired with a specific listening organizer. Whether you need to plan for a sub or just looking for new podcast activity ideas, you can easily print out or copy, customize, and have students complete digitally. Leave with great ideas and potential new worksheet organizers to support whatever you are teaching.
Putting the Fun in Learning – Using Listenwise Podcasts to Highlight Positive News
Recording Available
The past few years have been challenging for everyone— teachers and students alike. Adding podcasts into your lessons is a great way for educators to add levity, humor, and positive news to the school day. 
Join Listenwise's English Runyan as she shares ways that she has put the fun in learning by using podcasts from the Listenwise library. Examples of podcasts themes they will cover include: moving & heart-warming podcasts, podcasts all about animals, strange science podcasts, and light-hearted & fun podcasts. Teachers will leave with strategies to incorporate student choice, support critical thinking with weird news and a thoughtful way to incorporate good news about underrepresented people groups.
Listen Up! Building the Listening-Reading Connection for Multilinguals
Recording Available
How can teachers leverage podcasts to deepen their English Learners' language proficiency? What is the connection between building listening skills and improved reading comprehension in EL students? 
Listenwise's Monica Brady-Myerov will be joined by multilingual thought leader and author, Valentina Gonzalez, for a conversation exploring the listening-reading connection. Together they will share their perspectives and experiences on the importance of teaching listening in order to build literacy. Teachers will leave this webinar with practical instructional strategies for English language learners.
Rewatch our Fall 2021 Webinars on Accelerating Learning & Supporting Mental Wellbeing
These 45-minute conversations discuss how podcasts can accelerate learning and support mental wellbeing for all students.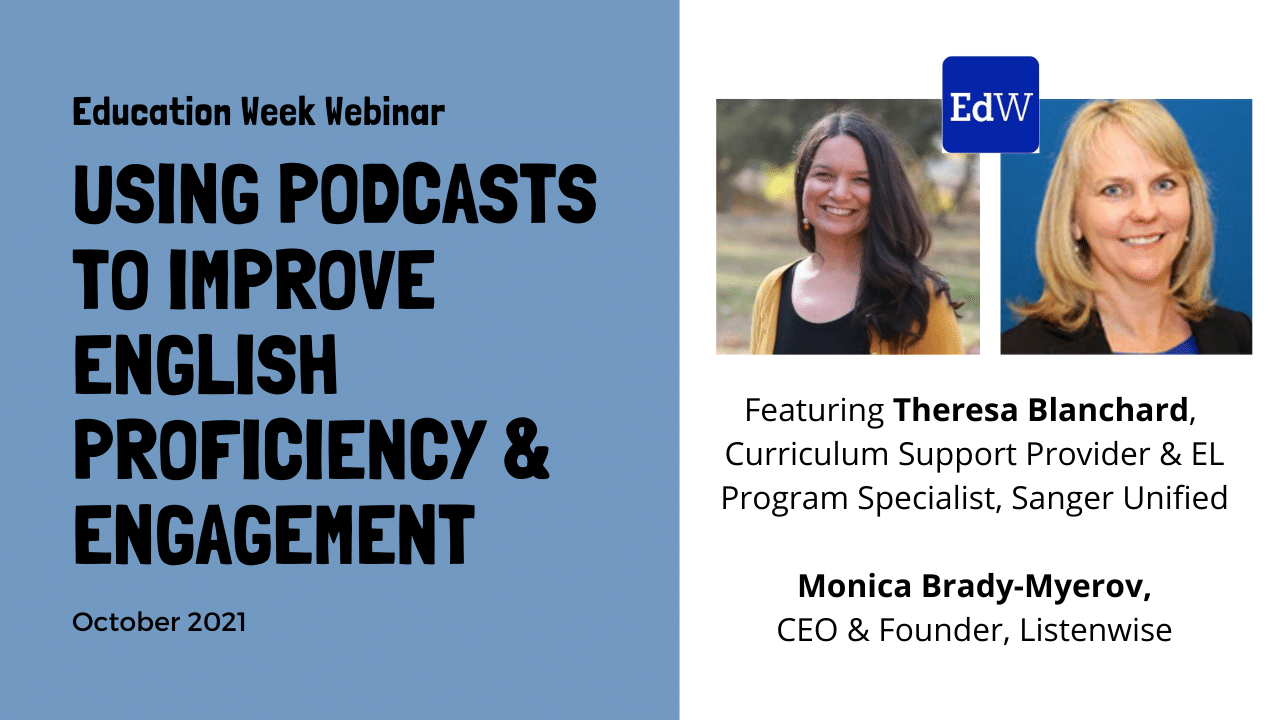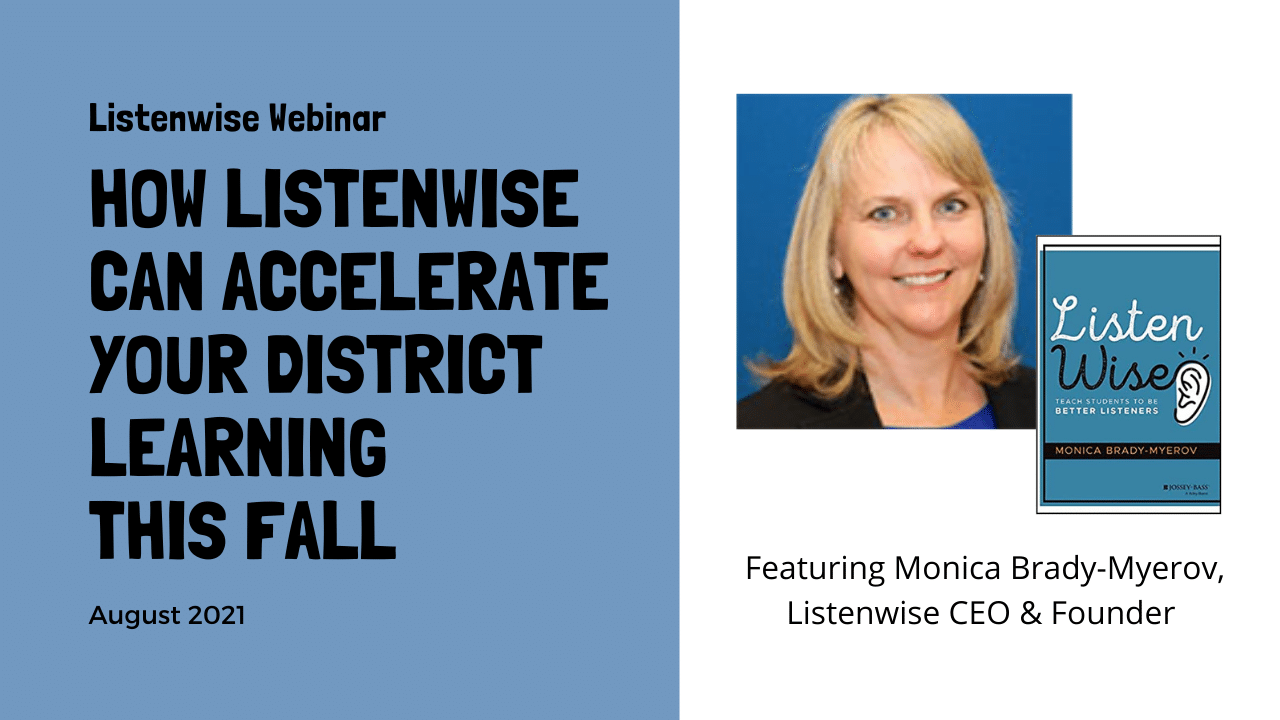 Using Podcasts to Improve English Proficiency & Engagement (Hosted by Education Week)

Recording Available
Learn how Sanger Unified School District supported their EL's and improved literacy for all students by utilizing authentic podcast content across the district. Sanger USD took a phased approach to a multiyear implementation of Listenwise. They initially focused on achieving equity for English learners in designated ELD classrooms. Based on early outcomes, Sanger quickly expanded to inclusion/integrated classrooms to support all students.
How Listenwise Can Accelerate Your District Learning this Fall
Recording Available

Do you have the right resources to support all your students in your critical learning initiatives this Fall? Monica and Adam will discuss the funding landscape and how the American Rescue Plan Act can help you bring podcast lessons to your school district. This webinar is great for administrators and school leaders.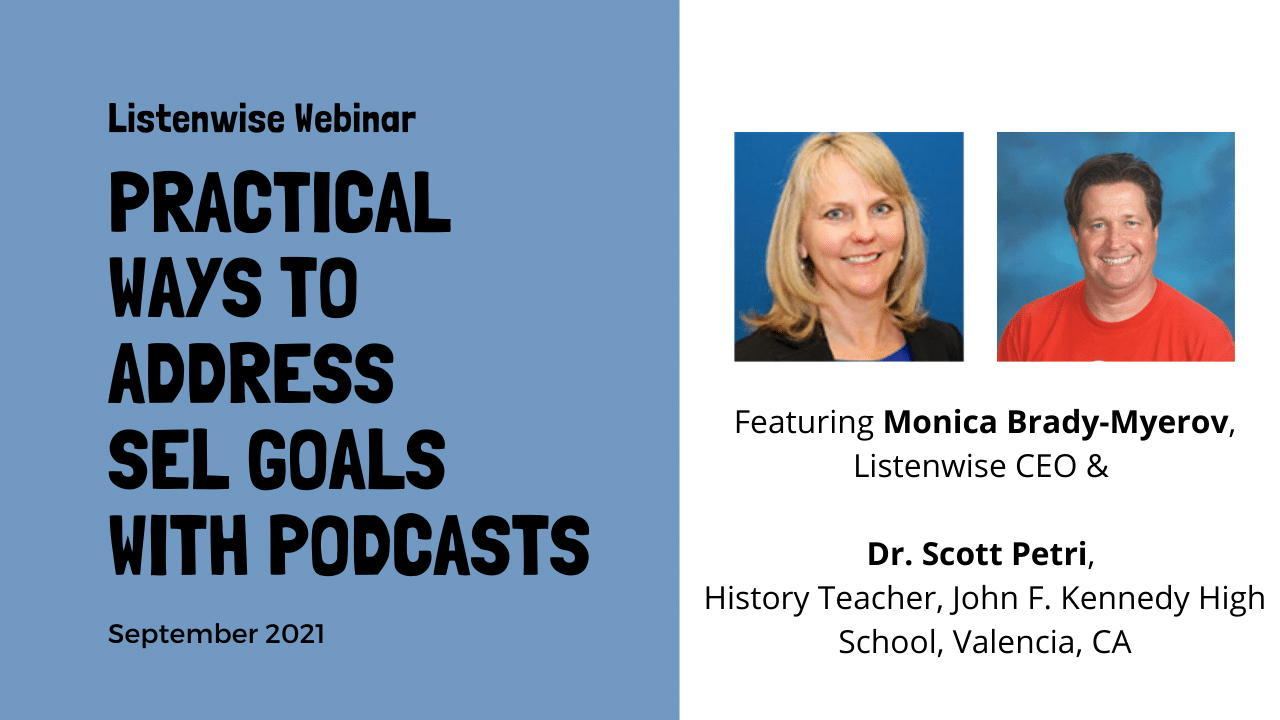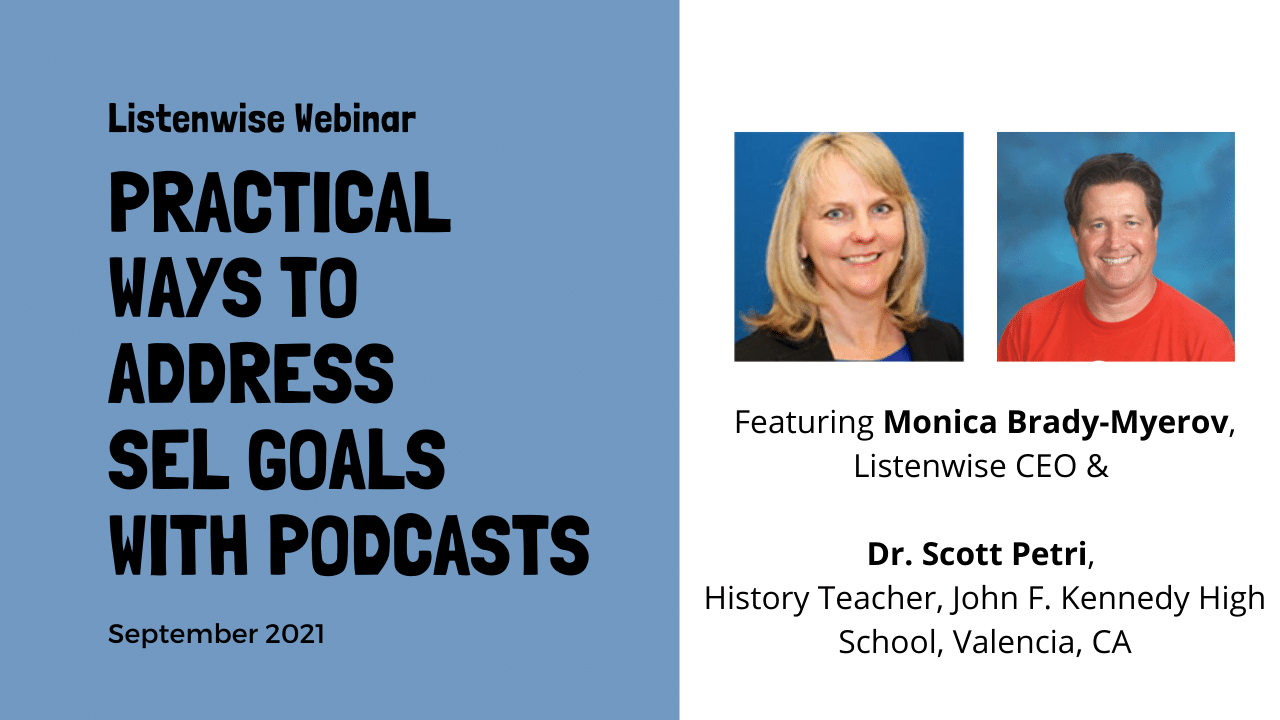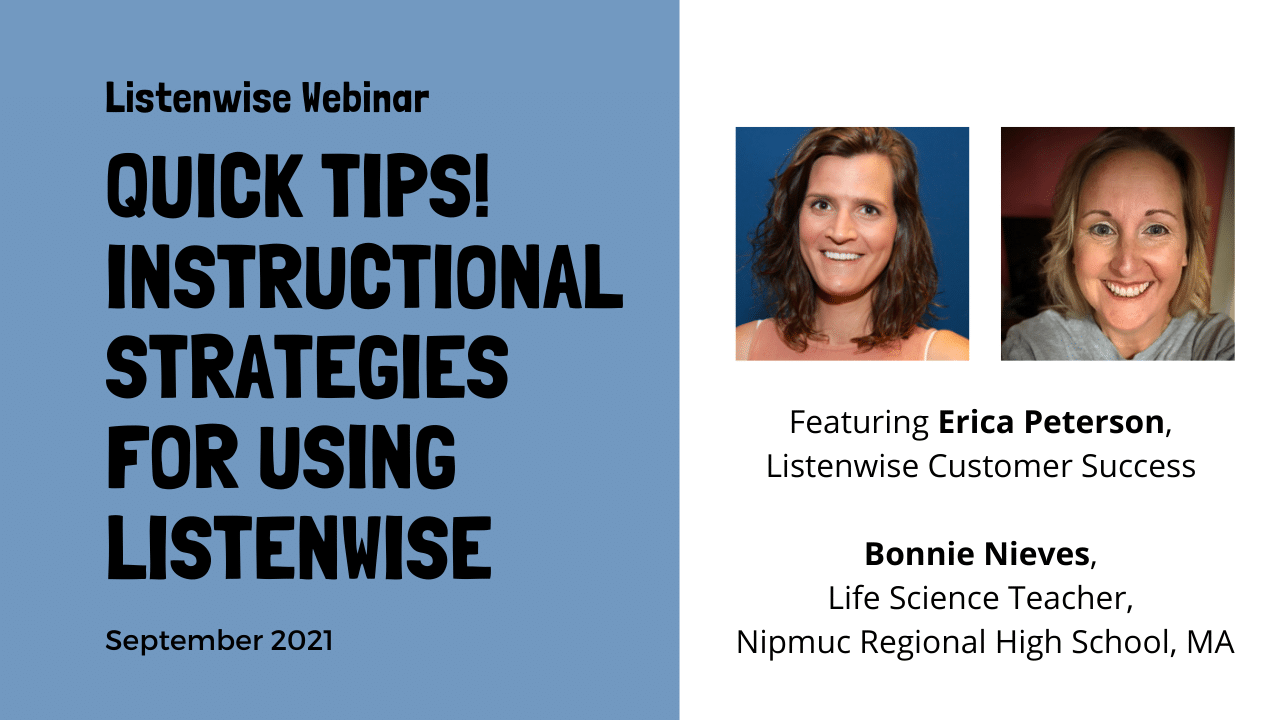 Practical Ways to Address SEL Goals with Podcasts (Hosted by Edweb)
Recording Available
This webinar will provide practical strategies for creating a space where academic and social-emotional goals are integrated with content and culturally responsive pedagogy. Monica and Scott will share strategies on how to create lessons that encourage student self-reflection and explore topics like mindfulness, self-efficacy and growth mindset, perseverance, responsibility, empathy, and gratitude.
Quick Tips! Instructional Strategies For Using Listenwise

Recording Availabile
Learn great instructional tips & strategies for integrating podcast lessons into your k12 classroom - whatever your instructional goals may be: content, language, or social-emotional learning to name a few. This webinar is great for classroom educators of all content areas, ELD educators, and instructional coaches.
Rewatch Our May 2021 Webinars:
Springing Ahead to Summer & Back-to-School 2021/22 Success
These 45-minute conversations explore the importance of teaching listening in K-12 education and how listening is tied to building literacy, especially academic language. They bring in research, theory, and practice.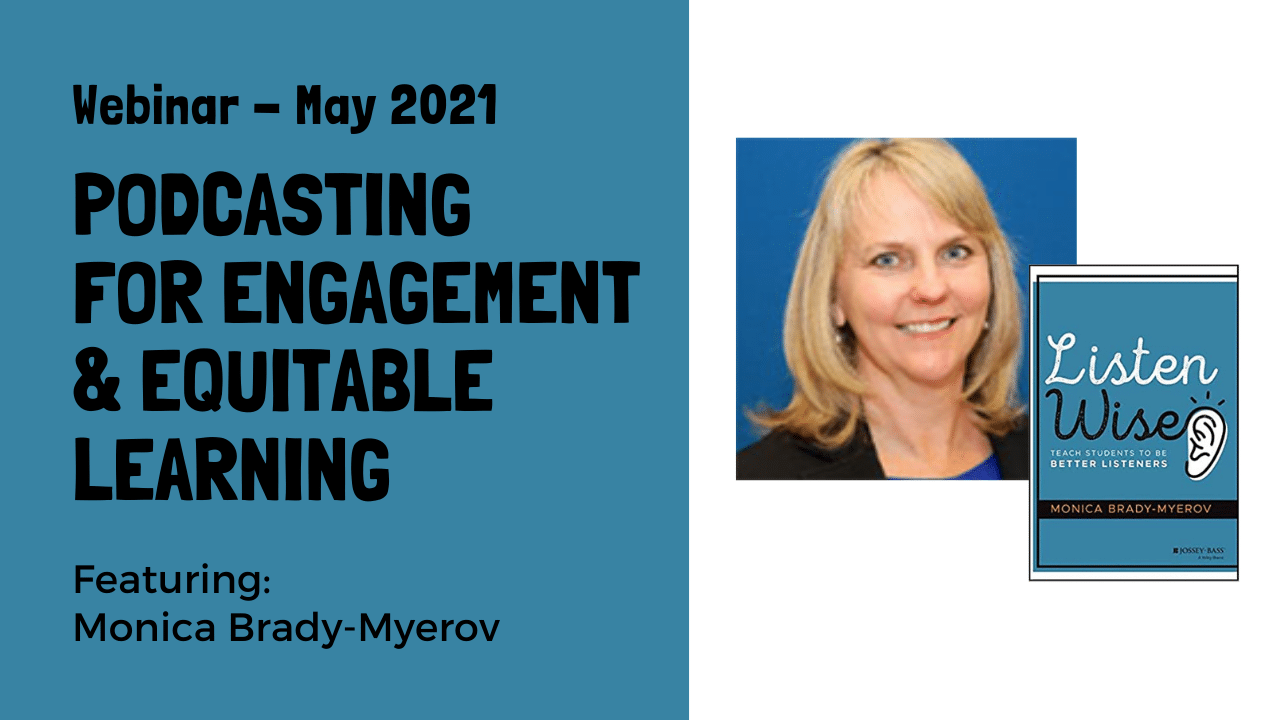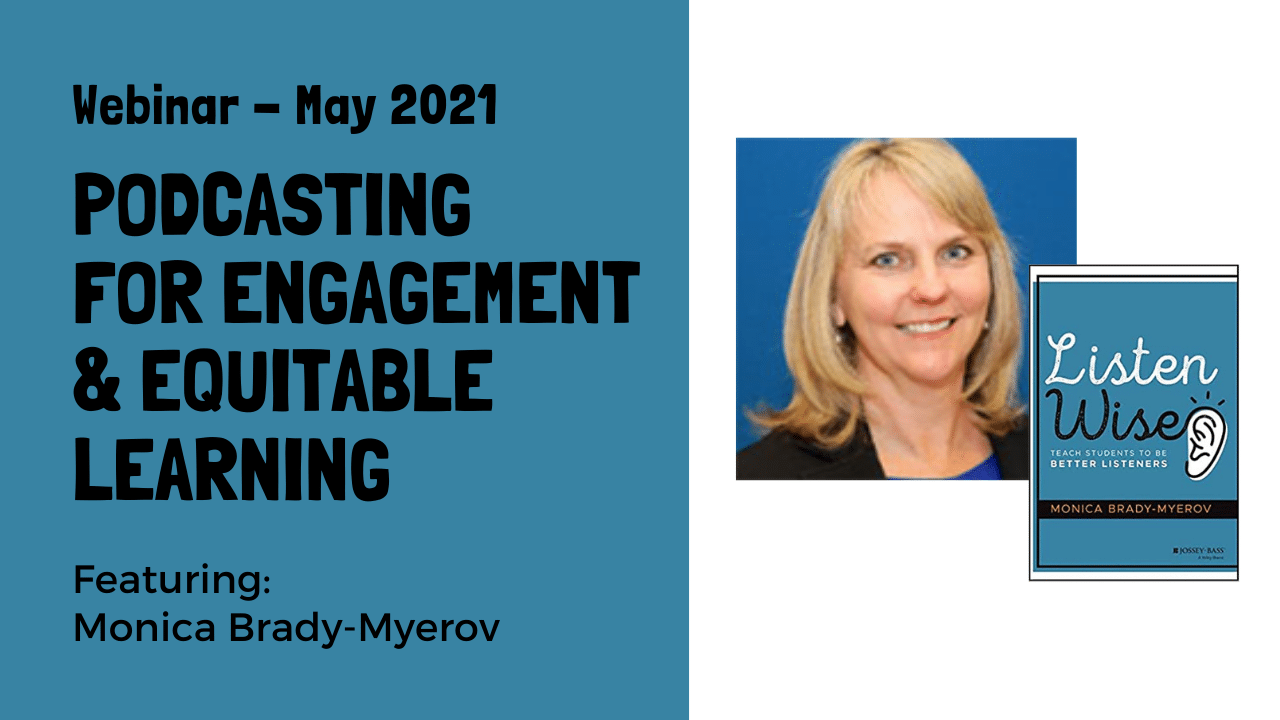 In this session learn how you can use Listenwise as a culturally responsive teaching tool and support your equity goals by engaging your students with real-world podcasts, which are accompanied by standards-based teaching resources. Presented by Listenwise CEO & Author, Monica Brady-Myerov.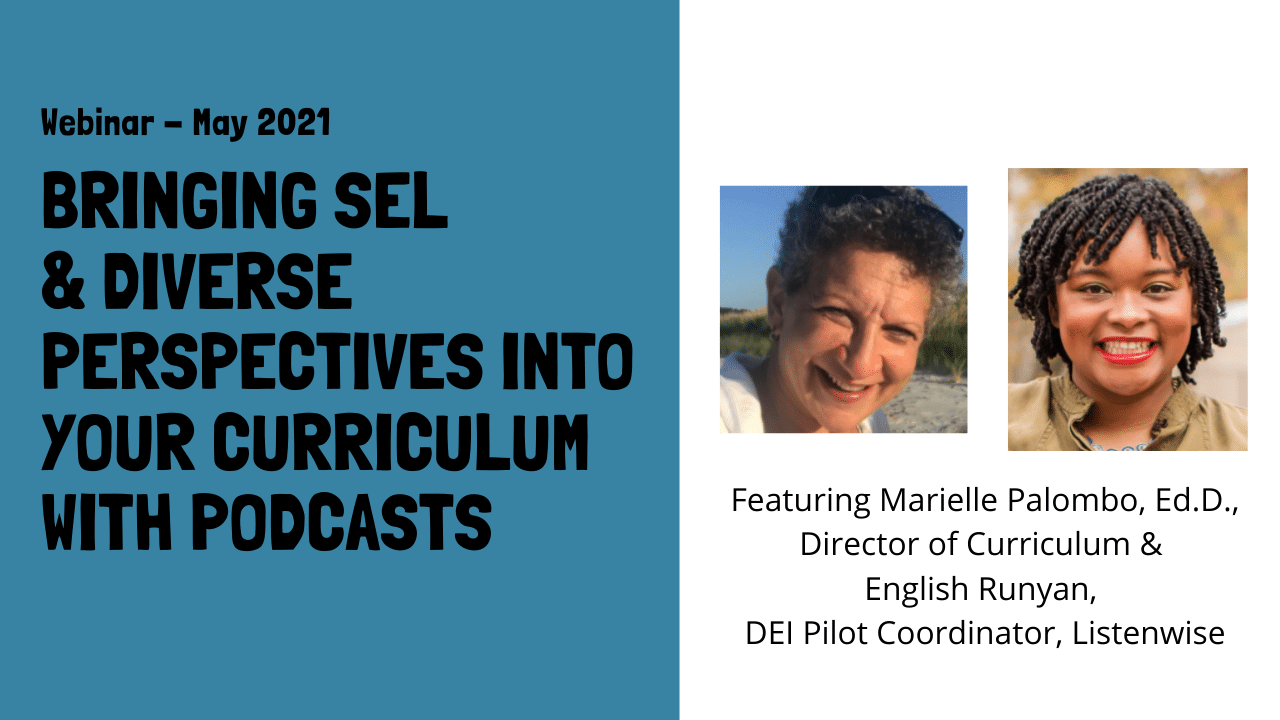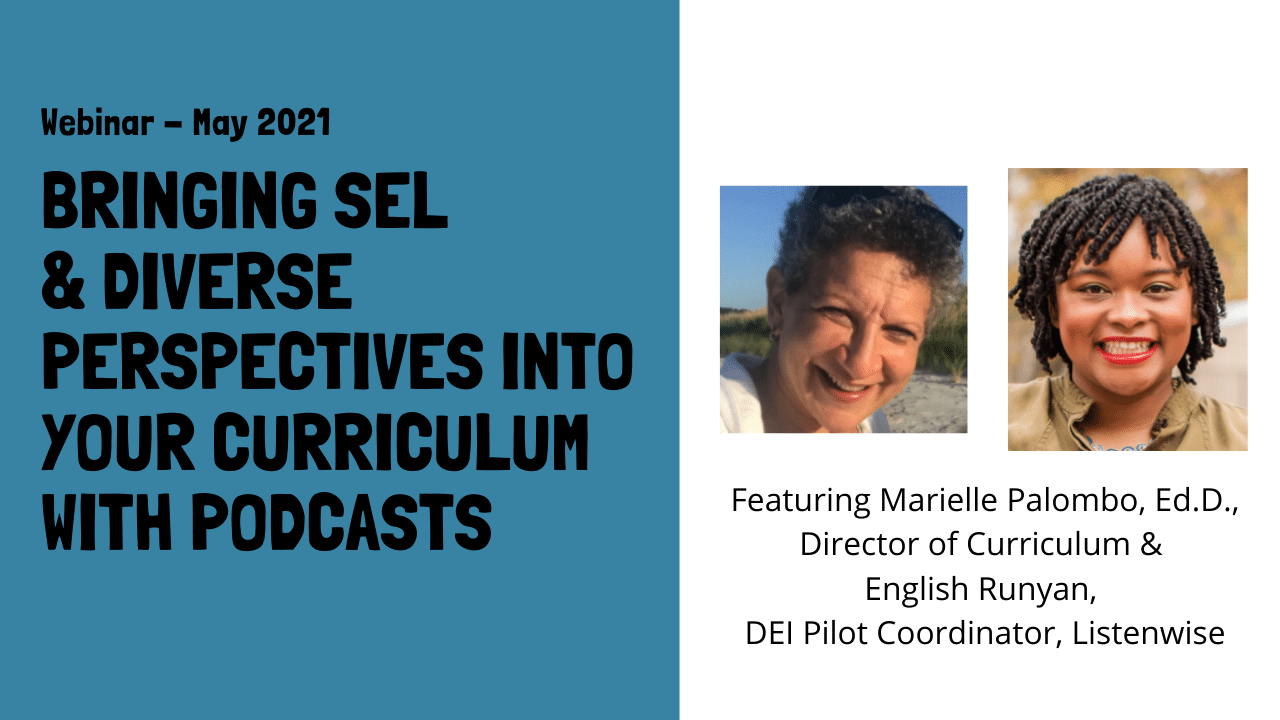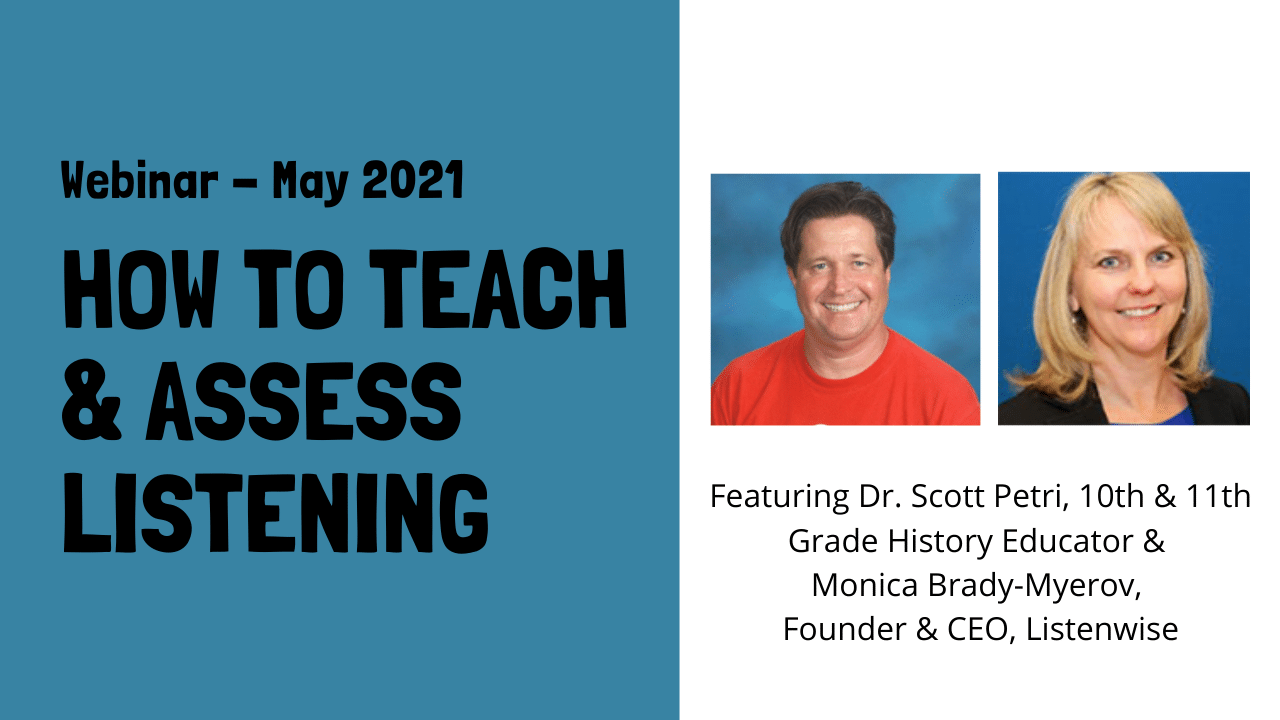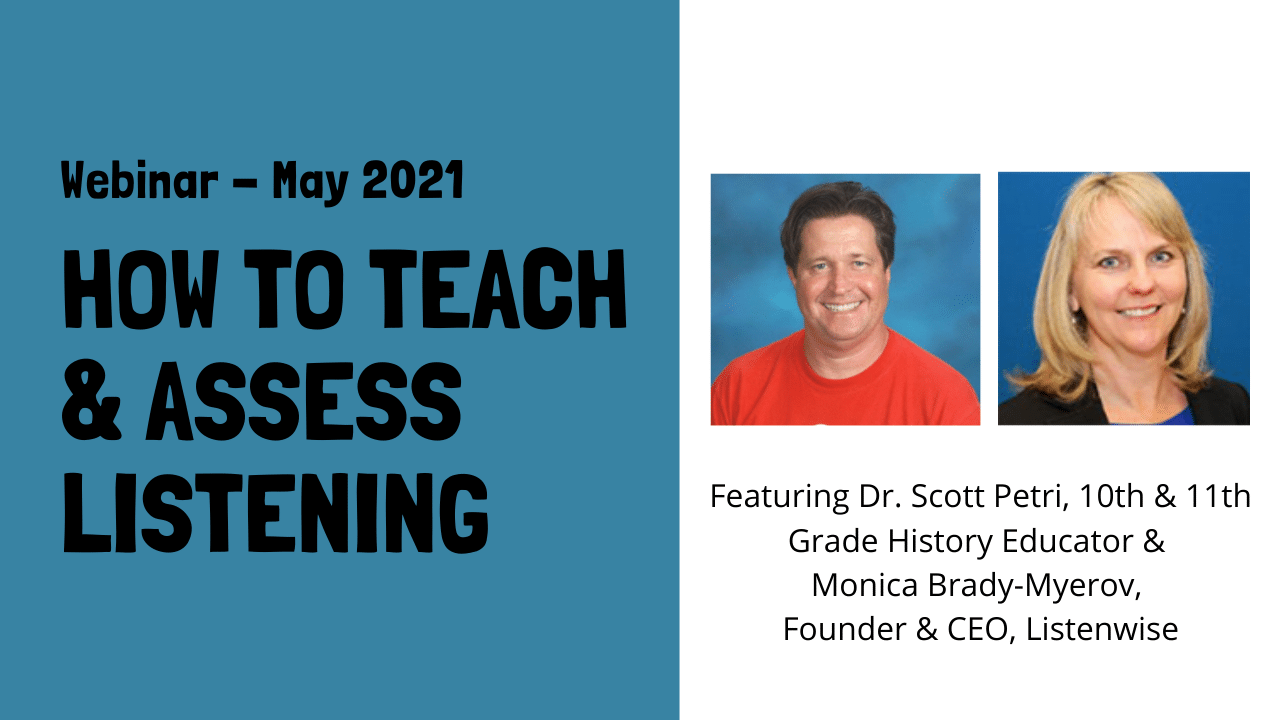 Learn how you can diversify teaching resources and develop students' social and emotional skills with podcasts. Teaching with podcasts can incorporate underrepresented voices and perspectives into your curriculum, while also helping students build literacy skills. Presented by Marielle Palombo, Ed.D., Director of Curriculum & English Runyan, DEI Pilot Coordinator, Listenwise.
There are so many ways to use Listenwise's lessons to support every learner, in whatever learning environment. In this session, we'll explore instructional strategies to help educators make the most of their teaching time, using podcasts. Hear from CA Educator, and Listenwise Advocate, Dr. Scott Petri on how he teaches listening & speaking skills in his classroom.