Listenwise has integrated with Google!
We know how much teachers love Google and we are happy to announce an even easier way to bring Listenwise into your classroom. From Google login, to sharing all of your Premium listening assignments our Google integration will make it faster and easier for you to keep everything in one place.
Google Login
For All Teachers and Students
Don't you hate having to remember all those passwords? Now, keeping them all in order is as easy as signing into your gmail. You can even switch your previous login details over to your Google login for easier access. The same goes for any students with Premium accounts.
If you haven't signed up for your Listenwise account yet, don't worry, the Google integration is still perfect for you. Just use Google login when you create your account and you'll be ready to go.
Google Classroom
Share your Listenwise Premium Assignments
Now, with the click of a button, you can post your assignments to your own Google classroom. After you create your Listenwise Premium assignment, simply look for our "Share to Classroom" button – no setup required by your school or district. Your Premium assignments will be posted for students in your Google classroom. Students will still need to login to Listenwise but hey – they can just use their Google login!
How do you use the Google Login if you already have a Listenwise account?
If you previously signed up with a Google email:
Go to Log In and click the "Login with Google" button. You will have a couple short steps to authorize the Google App (once). Then you have the option to login with Google in addition to how you were logging in.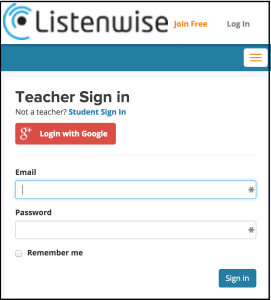 If you previously signed up with an email address NOT provided by Google/Gmail:
If you did NOT use a gmail address to set up your Listenwise account and you click "Login with Google" a new account will be created for you. If you want to switch to using Google Login with an existing account, you first have to login with your existing Listenwise credentials. From there, go to Settings and change your email address to your gmail account. Then, logout of Listenwise and log back in by clicking the "Login with Google" button and follow the instructions as listed above.
Google and Listenwise are excited to make it easier to bring learning into your classroom. We are proud to be doing it together and, with this new integration, we will continue to give you the best possible experience when using our products.
If you are ready to get started with Listenwise, sign up now!