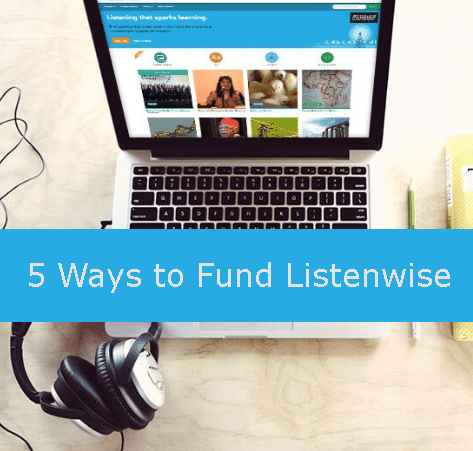 It's back-to-school time! As you settle into the year it's great to get students talking about important current events that happened over the summer. Try out these engaging public radio stories with discussion questions that will challenge your students to think critically:
Want to go deeper than current events? Looking to enhance your curriculum with great, primary source stories? Here are 5 ways you can fund a Listenwise subscription:
Pledgecents and crowd funding!
We just started a partnership with Pledgecents. You can raise money online to fund your subscription. It takes a few seconds to sign up and 30 days to raise money. Learn more!
School Funding
Discuss with your appropriate admin what funds exist to purchase Listenwise Premium for your school. Schools and districts have dedicated budgets for curriculum resources. Every school is different but your principal or assistant principal are typically the folks with purchasing power. In some cases library/media/tech folks review curricular resources and also have funds to make purchases. These are great places to start if you are looking to integrate Listenwise Premium at your school.
Federal Funding
Many schools qualify for federal funding through Title 1 and Title 3. Title 1 funds are directed to schools where at least 40% of students live in poverty. Title 1 funds can be used to purchase curriculum resources. If you are looking to implement Listenwise with a high population of English Language Learners, Title III funding can be used. Title 1 and Title III funds can be directed towards school and district purchases.
PTA Budgets/Education Foundations
Many districts have PTA budgets that can be applied to purchase supplemental educational resources. Districts also often have education foundations. These are nonprofits funded by individuals and businesses for the purposes of purchasing education resources.
Here is an example Sarasota County Florida's education foundation, for reference.
Grants
Grants exist in many forms. Some come from districts, others come from organizations in the education ecosystem like ASCD.