We are proud to be winners of the NewSchools Ignite English Language Learning (ELL) Challenge, a funding competition created by NewSchools Venture Fund. Today we join 12 other organizations who are developing products that address critical student needs to ensure ELL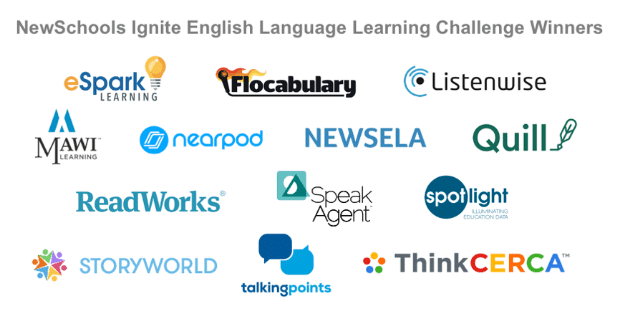 students graduate prepared and inspired to achieve.  
Read NewSchools blog about the award announcement. (See the full list of winners below.)
Read more about how we support ELL students with authentic listening stories to build academic language and hear from teachers themselves,how our content is a great fit for English learners:
"My ELLs love using Listenwise. The content has been a stretch, which has been wonderful for them. What I like best is that although it emphasizes listening, it also involves reading, speaking (academic conversations), writing and vocabulary development. The students' favorite stories were A Reluctant Hero since they all connected emotionally to the story, Immigration, Identity and Esperanza Rising, since the repatriation of Mexicans after the war really struck a chord with them and Foot Binding since they had some background knowledge of this practice, but were captivated by the story."
-Anabel Gonzalez, Mooresville Graded School District, NC
Congrats to our fellow winners in the ELL Challenge cohort!