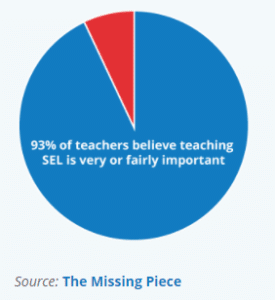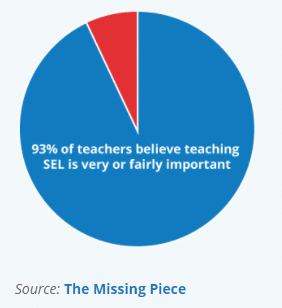 What do we want our students to learn? Of course we want them to gain mastery in grade-level content and skills. We may also want them to acquire skills to manage their emotions, set goals, feel empathy, maintain good relationships and make good decisions. Integrating content learning with social and emotional learning is a process that gets results.
Tracy Sockalosky, a 7th grade teacher in Natick, MA says,
"As educators, we must remember that one of our most crucial roles is to teach children to be kind and empathetic human beings."
Learning from Authentic Voices
Authentic voices are vital for engaging students. With testimony, students are gaining both an understanding of the events of history, but also the raw and powerful emotions that cannot fully be felt from reading text. Listening to firsthand accounts helps students visualize the scene, the environment, and put themselves in the speaker's shoes. Students can use their imagination to fill in gaps and step back into experiences that are being recounted.
"It is not easy to reach the emotional core of a middle school student with an academic lesson, but the Listenwise stories my students have heard and the classroom discussions that have ensued afterward have truly impacted them in a variety of ways. They leave the classroom talking about them and have wanted to revisit the content with me in casual conversation."
–Kara Nierman, 7th grade teacher in Rhode Island
Listen to this story to hear how engaging it is! In this story, hear from a Holocaust survivor who escaped a Nazi camp and has lived with survivor's guilt. The lesson plan explores why it's important to read and hear the stories of Holocaust survivors.
Create a Safe Place for Student Voices
There are important things happening around us in the world, and it's critical to have conversations with our students about them. Whether it's conversations about the Keystone Pipeline, police, immigration travel ban news, or women's rights, finding a common ground to connect with your students is important for building a classroom of informed citizens. As a teacher, before you can embark on these discussions, it's helpful to lay the groundwork and create a safe space for learning and a safe space for having these conversations.
Think about stories that can align to your curriculum, and innovative ways you can incorporate them into your instruction. This Education Week video shows a great lesson that one teacher used to incorporate an authentic speech from President Obama into a discussion of religion and xenophobia with her class.
Facing History and Ourselves has helpful resources to set the scene for authentic classroom conversations. How can you create a safe and reflective classroom where students learn to exchange ideas and listen respectfully to each other? What strategies are most effective in helping students practice constructive civil discourse? Check out this guide: Fostering Civil Discourse: A Guide for Classroom Conversations.
Teaching Tolerance also has a guide that offers practical strategies for creating a space where academic and social-emotional goals are accomplished side by side called Critical Practices for Anti Bias Education.
How Can You Implement Right Away?
Using high-quality, authentic voices create a connection between students' worlds inside and outside school. Not only can students learn the critical thinking academic skills aligned with content knowledge, they learn empathy – which is imperative to build future-ready citizens who are kind and conscientious.
"We shared the story Selma and Civil Rights with our students. As the students listened to the story, the sounds from the confrontation on the bridge made quite an impression. Also, hearing from someone who was a 13-year-old kid at the time of the march over the bridge helped my students try to imagine what it would have been like if one of them were there. My students were stunned and wanted to engross themselves in the experience more after hearing that story."
–Kara Nierman, 7th grade teacher in Rhode Island
Check out these stories that all include authentic voices and comment below to share what worked in your classrooms! Happy Listening!