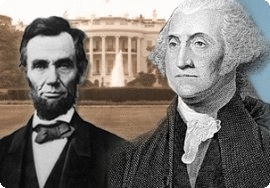 We celebrate President's Day in February to honor George Washington and Abraham Lincoln, two important U.S. Presidents who were born in February, making it a great month to examine the presidency from many different angles. Look below for some resources to support learning about and discussing U.S. Presidents in your classroom.
Listenwise President's Day Audio
Ask students to discuss how George Washington set the standard for the role of president after listening to George Washington: His Finest Act. Discuss his role in the birth of the nation with an American Revolution museum tour and the story about Origins of July 4th. Listen to a story about Lincoln's Gettysburg Address, and revisit the night Lincoln was assassinated.
For a more modern perspective on the presidency, check out these six stories about 20th and 21st century presidents:.
Compare and contrasts the legacies of two very different presidents through discussing President Buchanan and Dred Scott and The Legacy of LBJ and Civil Rights. Listen to The Truman Doctrine to hear about Truman's foreign policy, and listen to FDR's New Deal Speech for a story about FDR's most famous program.
Listenwise Audio on U.S. Government and Civics
These stories also address the U.S. presidency and associated issues and topics, such as elections, executive powers, and checks and balances:
Other Resources for President's Day
We the People: The Citizen & the Constitution
Use these lessons to engage students in learning about these presidents and how they shaped history.
Presidents' Day: A Life Lesson for Students
This lesson has students think about what they would do if they were President of the U.S. and guides thinking and discussion of issues they care about and would fight to promote.
This interactive animated game prompts students to decide on issues and get advice and then see how their choices aligned to Lincoln's actions.
This game from iCivics allows students to make choices about laws and control all three branches of government.