We've been hearing from Google Classroom teachers that you want more integrations with Listenwise, and we've been listening! Last year we offered Google single sign-on, sharing assignments to Google Classroom, and Google Classroom roster import. We are thrilled to announce our newest integration: sending quiz scores to Google Classroom!

It's now easier than ever to assign a quiz, as well as share the quiz assignment to Google Classroom AND send scores to Google Classroom. It just takes a few clicks!

Step 1: Find a Story with Quiz and Choose a Class

We have over 300 quizzes and counting on Listenwise! Once you find a story with a quiz that you want to assign, click the "Assign Quiz" button in the upper right-hand corner of the story.

Choose a class and pick a due date — no changes here! If you select a class that was imported from Google Classroom, then you will automatically see the new gradebook integration options.



Step 2: Select Google Classroom Options and Click "Assign"

You have two options: "Share Quiz with Google Classroom" and "Send Scores to Google Classroom."

If you want to send quiz scores to Google Classroom, you must share the quiz to Google Classroom. But you can share the quiz to Google Classroom without sending quiz scores. See the video below for more: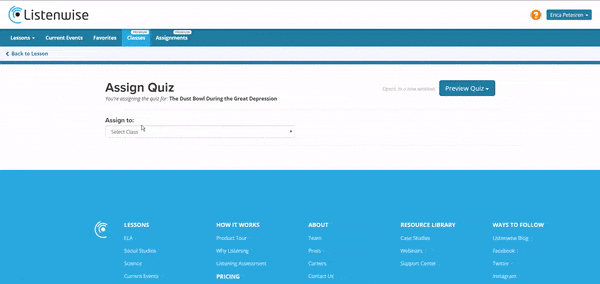 Note: If you want to share the quiz with students in Google Classroom without importing the class roster, click the Google Classroom icon on the Quiz Report page.
Step 3: Listenwise Quiz is in Google Classroom!

If you opt to share the quiz and send scores to Google Classroom, the Listenwise quiz will automatically be added to your Google Classroom Stream, Classwork, and Grades tabs. Quiz scores will be added to your Grades as students submit Listenwise quizzes.



For more details and step-by-step instructions on all integrations, check out the Listenwise + Google Classroom Guide.