Listenwise CEO Monica Brady-Myerov recently visited classrooms in California and shares her experiences here.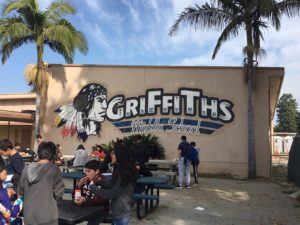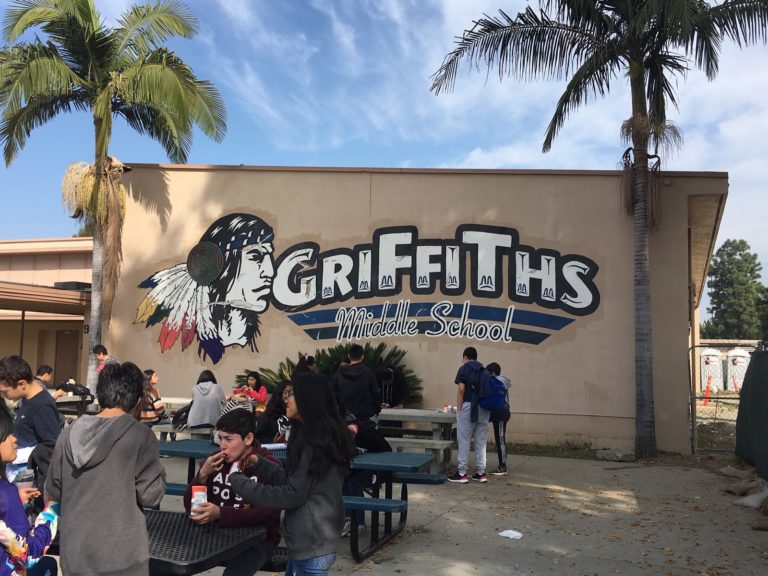 I had the privilege of visiting one of the many middle schools in California implementing Listenwise across the school. I wanted to share the inventive, inspiring and successful ways I saw teachers at Griffiths Middle School in Downey, CA using Listenwise.

My first stop was in Ms. Jessica Worthy's 7th-grade exploratory robotics class. At first, I was surprised to hear that Listenwise was being used in her Automation and Robotics class. While Listenwise has a robust collection of stories about technology's impact on society, we do not have many lessons aligned with engineering standards. But Ms. Worthy knew she wanted to get her students thinking about the pros and cons of technology. She chose the debate story "Should Drones Be Used to Deliver Packages?" to stir discussion about the benefits and drawbacks of new technology, some of them unforeseen. She wanted students to learn about a real-life example. She played the story twice to ensure access for all students across a range of abilities. For the first listen, she told students to just enjoy the audio story. For the second listen, she asked them to be more intentional with their listening by logging into Listenwise and answering the assigned listening comprehension and discussion questions on the platform.

After students had worked independently, she reviewed each question with the class, sparking a discussion with students about each one. When she asked the question, What does the technology expert mean when he says drones are opening up "a third dimension"? one student responded that the third dimension is above ground, and another said it means more futuristic technology. This sparked a discussion about how this new technology will impact jobs. Ms. Worthy praised students' thinking and said the class was "thinking creatively to solve problems, just like engineers." The students were required to submit their written answers for later credit. Watch here!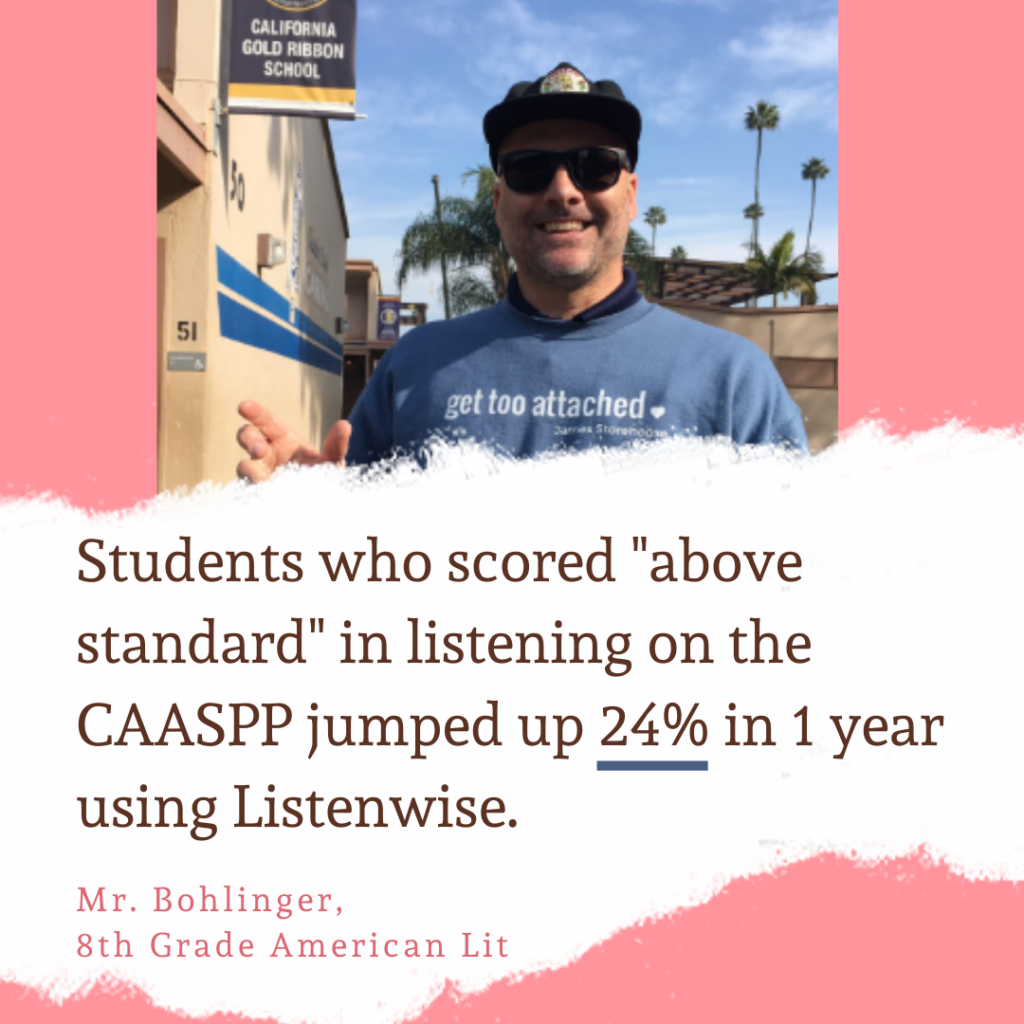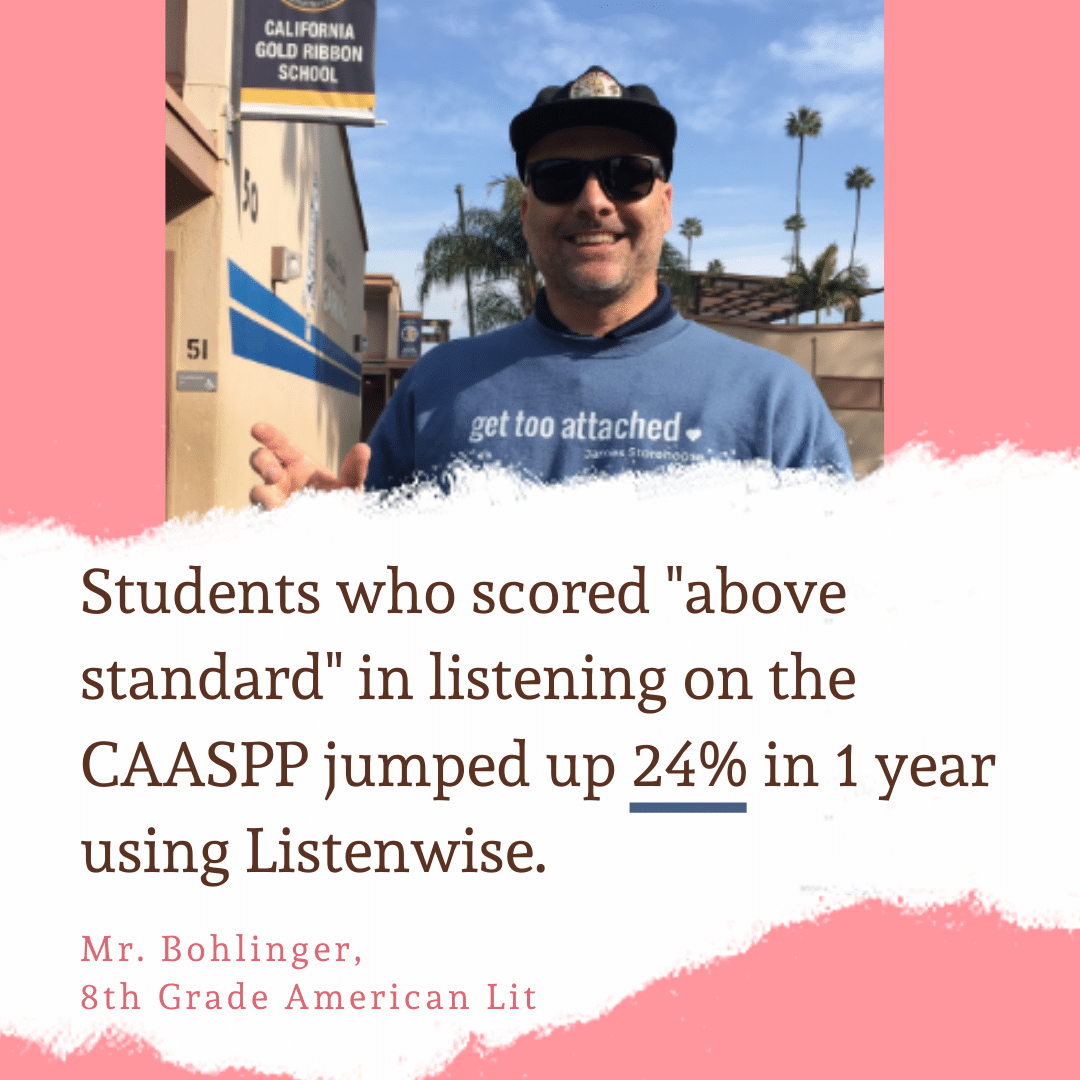 In Mr. Tyson Bohlinger's 8th grade American literature class, students were listening to the Listenwise story, "Middle Passage." Students used headphones to listen to the 5-minute story about the perspective of the book's author, a freed black man who unknowingly boards a slave ship. Mr. Bohlinger allowed students to see the transcript while listening and assigned them listening comprehension questions on the online platform.

Mr. Bohlinger shared some CAASPP interim assessment results on listening that were very impressive. In one of his classes, the percentage of students who scored Above Standard in listening jumped 24% over the last year, with 44% performing Above Standard. He called the results "phenomenal" and told me the only thing he's doing differently is using Listenwise on a regular basis. He noted that the interim test had just as many questions for listening as it did for reading, so he feels if he does not teach listening, he is leaving a major gap in instruction.
My last stop was in Ms. Charmetra Chatmon's 8th-grade class. She likes to use Listenwise as a way to help students practice listening for the SBAC/CAASPP. One of the ways she uses it involves assigning students a topic to work on independently with headphones, including taking the Listenwise quiz. At other times, they listen as a class, take notes, and discuss it together. Often she will print out the transcript and ask students to annotate as they listen because, she says "Listenwise is multifaceted and a great way to teach them about annotating and listening."

On the day of my visit, the whole class listened to the audio story "New Cosmic Crisp Apple." The first question she asked her students: How many of you like apples? It was a great introduction to playing a 2 1/2 – minute story with sounds of biting into a juicy crisp apple. She instructed students to write down points they thought were interesting. She did not show the transcript; it was purely a listening activity. The students obviously enjoyed it and talked animatedly about what kinds of apples they like to eat. One student proclaimed "Now I want an apple."

On the second listen, she directed students' attention to understanding what a horticulturalist does from the context of the story. Following the second listen, students opened their computers and took the online multiple-choice listening quiz. They were allowed to use their notes but could not listen to the story again. Because Listenwise quizzes give students and the teacher immediate feedback, Ms. Chapman asked her class what they thought the class average was on the quiz. When she revealed that the class average on the quiz was 58%, she asked them what they could do to improve their scores. "We need more listening practice!" said the students. Watch here!
I'm proud and happy that Listenwise will be there to help Griffiths middle school students practice and improve their listening skills.

Thank you to Vanessa Bedolla, Vice Principal of Griffiths for setting up the observations and welcoming me so warmly. And thank you to Rani Maline-Bertsch, the Director of Secondary at Downey USD, for joining me at Griffiths for part of the observation.