March 2018 – Discovering Listenwise
When Andi St. John visited the Listenwise booth at the Computer-Using Educators (CUE) spring 2018 conference, she knew right away that Listenwise was what her students needed!
St. John is a 6th grade ELA and social studies teacher at Katherine Edwards Middle School in Whittier, California. Eighty-one percent of students at Katherine Edwards are socio-economically disadvantaged, and 11.2% are English learners.
A goal of her district and school was to move the school from "improving" to "proficient" performance on the California Assessment of Student Performance and Progress (CAASPP).
Listening skills emerged as a particular area for growth because, according to St. John, students scored "nearly met" or "not met" across the board on the listening portion of the CAASPP.
St. John explained:
"Listening is one of the hardest skills to work on … It's hard to find texts that are appropriate for middle schoolers that are still interesting to middle schoolers. So when I saw Listenwise, I was like, OK, this is exactly what I want."
April/May 2018 – Piloting Listenwise for CAASPP Listening Skill Improvement
St. John initiated a three-teacher pilot at Katherine Edwards in the month before CAASPP testing. She used Listenwise for whole group instruction and in small group test prep after school. Her students enjoyed using Listenwise, and St. John could see students' progress during test prep.
2018-2019 – School Year Adoption Across 6th Grade
In the 2018-2019 school year, all 6th graders at Katherine Edwards had access to Listenwise, and twelve teachers were active users. Teachers could see improvement in their students' ability to answer questions based on what they had heard. St. John saw that her honors students were better able to meet her expectations of restating a question, answering the question, citing evidence, and explaining their evidence (RACE).
Another 6th grade teacher who used Listenwise in language arts and social studies appreciated the scaffolds available for her students who needed them. She used transcripts and graphic organizers to support her students who struggled.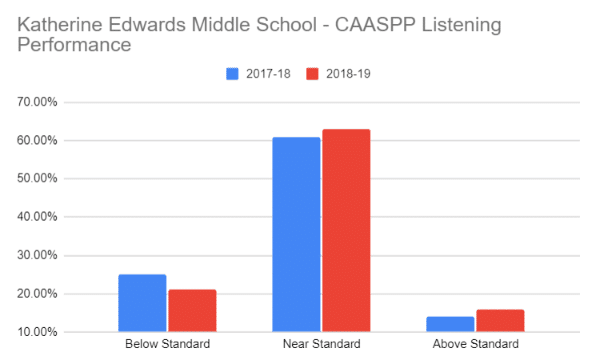 She said, "The quizzes come in handy to check for [listening] comprehension, and the questions provided help students with their writing skills."
The 2018 -2019 CAASPP data reflected the improvement teachers saw in their students. On the listening portion of the test, the proportion of students who scored at or near standard increased from 61% to 63%, the proportion of students who scored above standard increased from 14% to 16%, and the proportion of students who scored below standard decreased from 25% to 21%.
2019-2020 – School Year Adoption Across All Levels
In the 2019-2020 school year, every student at Katherine Edwards had access to Listenwise.
St. John mostly used Listenwise to teach content in her ancient civilization social studies class because it was difficult to find listening materials. She likes to provide students with audio stories about topics that she won't get to cover, but that are interesting and complement her curriculum.
"It is super helpful for teachers because we don't have to go and look for something… It was getting to the point where I was thinking … Am I going to have to record the textbook or … use videos like that? But even on videos, especially on YouTube, [students] will put the closed captioning on it," says St. John.
St. John established clear procedures for when her students use Listenwise. She modifies the lessons to include only three or four questions and adds customized instructions to guide how students answer them and write handwritten notes on their own paper like they do for CAASPP (prior to Covid-19). She learned that letting students use one-to-one devices was more helpful than whole group listening because students can start, stop, re-listen to and slow down audio as needed.
Jennifer Herron, a 7th and 8th grade ELA teacher at Katherine Edward, saw benefits related to school-wide implementation and increased engagement with Listenwise.
Herron said:
"It's nice to have a program kids are comfortable with already. I can assign things and there are no issues. The students can finish assignments in a brief amount of time. This is important because many of our population do not have a lot of quiet time as they share a room, and there are multiple people in the home. However, the students know the work is of value. It's being completed more than any other activity I assign."
2020 – 2021 – Supporting Literacy
Katherine Edwards continued implementing Listenwise school-wide during the 2020- 2021 school year. Teachers continue to see how Listenwise is helpful for building listening skills and supporting literacy instruction. 
St. John has used Listenwise to help students practice identifying the main idea of informational texts. Once students are familiar with the platform, she allows them to look up current event stories that they are interested in, listen to them, and tell her what they think the main idea is and why.
According to St. John:
"[Students] don't have to struggle with reading [an informational text]. They just can't get past the words and fluency… [not] actually being able to read it [easily] does hinder a lot of the skills that we're trying to work on."
Eighth grade teachers at Katherine Edwards have used Listenwise to support literacy in building background knowledge about the structures of texts that their students read and write. St. John explained that 8th grade students were writing memoirs, so their teachers started looking up memoirs on Listenwise like Memoir of an Undocumented Immigrant. These audio stories offered students examples of authors discussing their work, which could inform students' own writing.
2021 and Beyond – Proven Success with Listenwise
Katherine Edwards Middle School's strong implementation of Listenwise for teaching listening and literacy has inspired other schools in the district to follow their lead. Dexter Middle School and Andrews School (TK-8) have also adopted Listenwise, expanding implementation across all Whittier City middle schools. The district has considered the possibility of adopting Listenwise for all elementary schools in the future.
Katherine Edwards' success with Listenwise is possible at all schools! Contact us to learn more about bringing Listenwise to your school.