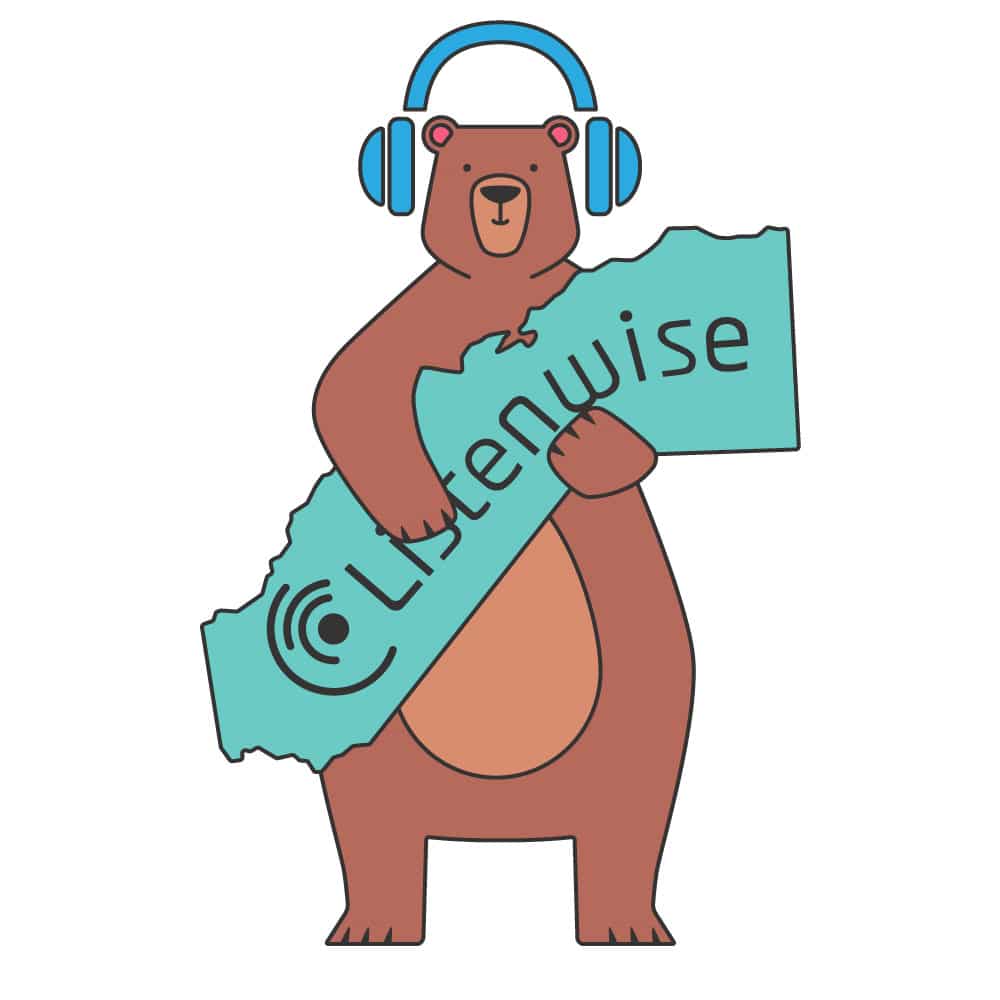 Listenwise is proud to be a part of so many California teachers' toolkits. With our ever-expanding library of California standards-aligned ELD lessons, we aim to provide rigorous and engaging content for English learners. In this way, our product makes an ideal resource for educators following the California English Learner Roadmap.
Read on to learn more about how Listenwise supports the California English Learner Roadmap Principles.
About the California English Learner Roadmap Project
The California English Learner Roadmap Project is a collaborative effort between the California Department of Education (CDE) and educators from a wide variety of specialties and disciplines. The stated goal of the project is to "​​assist local educational agencies as they implement California's twenty-first century college- and career-ready standards, curriculum, instructional programs, and assessments for English learners." 

In 2017, the California State Board of Education approved the Roadmap Project's California English Learner Roadmap State Board of Education Policy: Educational Programs and Services for English Learners (EL Roadmap Policy).
4
California English Learner Roadmap Principles
There are four principles of the California English Learner Roadmap. These principles are "intended to guide all levels of the system towards a coherent and aligned set of practices, services, relationships, and approaches to teaching and learning that add up to a powerful, effective, twenty-first century education for all English learners."
In other words, the California English Learner Roadmap Principles exist to promote an understanding of the shared responsibility that educators across all levels of the education system have in ensuring that California's English learners receive a high-quality education.
How Listenwise Supports the 4
CA EL Roadmap Principles
Principle One: Assets-Oriented and Needs-Responsive Schools
This principle focuses on the need for schools to be responsive to the social and emotional health and development of ELs. This includes ensuring that programs "value and build upon the cultural and linguistic assets" students bring to school.
Listenwise's multimodal lessons can be effectively used to teach SEL skills. Our podcast and video lessons can be used to teach skills and competencies outlined in the CASEL framework, including self-awareness, self-management, social awareness, relationship skills, and responsible decision-making. Our story collection features diverse voices, offering windows, mirrors, and doors that reflect and validate a range of cultural identities and experiences.

Among the biggest assets that English learners bring with them is their home language. Listenwise's ELD lessons offer unique opportunities to incorporate home languages into the classroom. 
Watch this teacher testimonial to learn more about ways that teachers can use students home language to access Listenwise content:

Principle Two: Intellectual Quality of Instruction and Meaningful Access
This California English Learner Roadmap Principle specifically addresses the need for intellectually rich, high-quality learning experiences for ELs. The CDE requires that these experiences "integrate language development, literacy, and content learning as well as provide access for comprehension and participation through native language instruction and scaffolding."
Listenwise lessons are designed to teach content and language together in a way that is as engaging as it is accessible. Our ELD lessons include a variety of built-in supports that allow teachers to provide appropriate scaffolding and easily differentiate instruction. 
Our lesson design has earned us ESSA Level IV certification, demonstrating that our instructional supports and differentiation provide a clear avenue to the development of students' skills.
Listenwise podcast lessons utilize research-based strategies to help educators focus on instructional equity. Other supports include: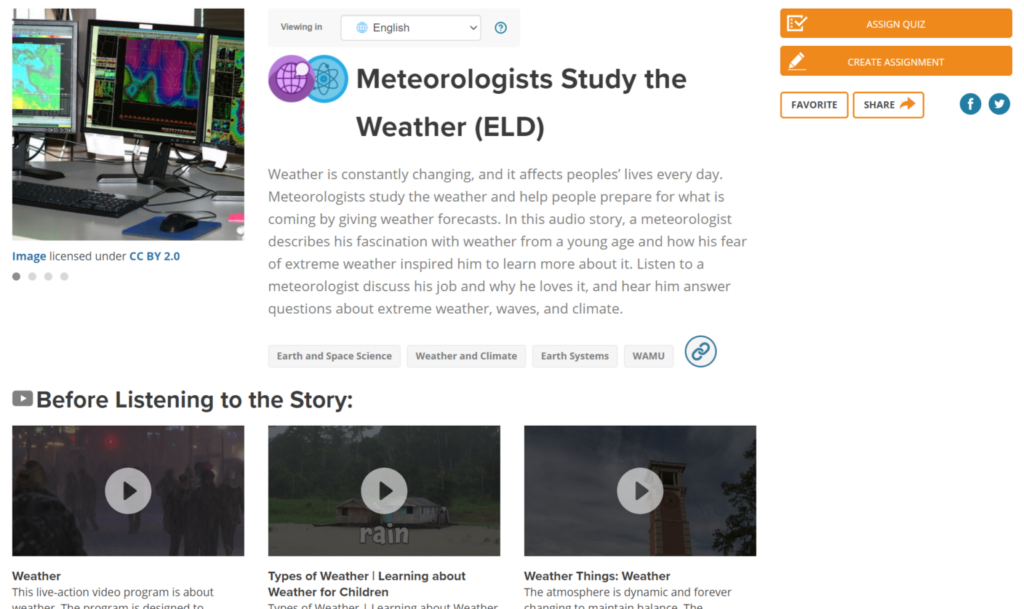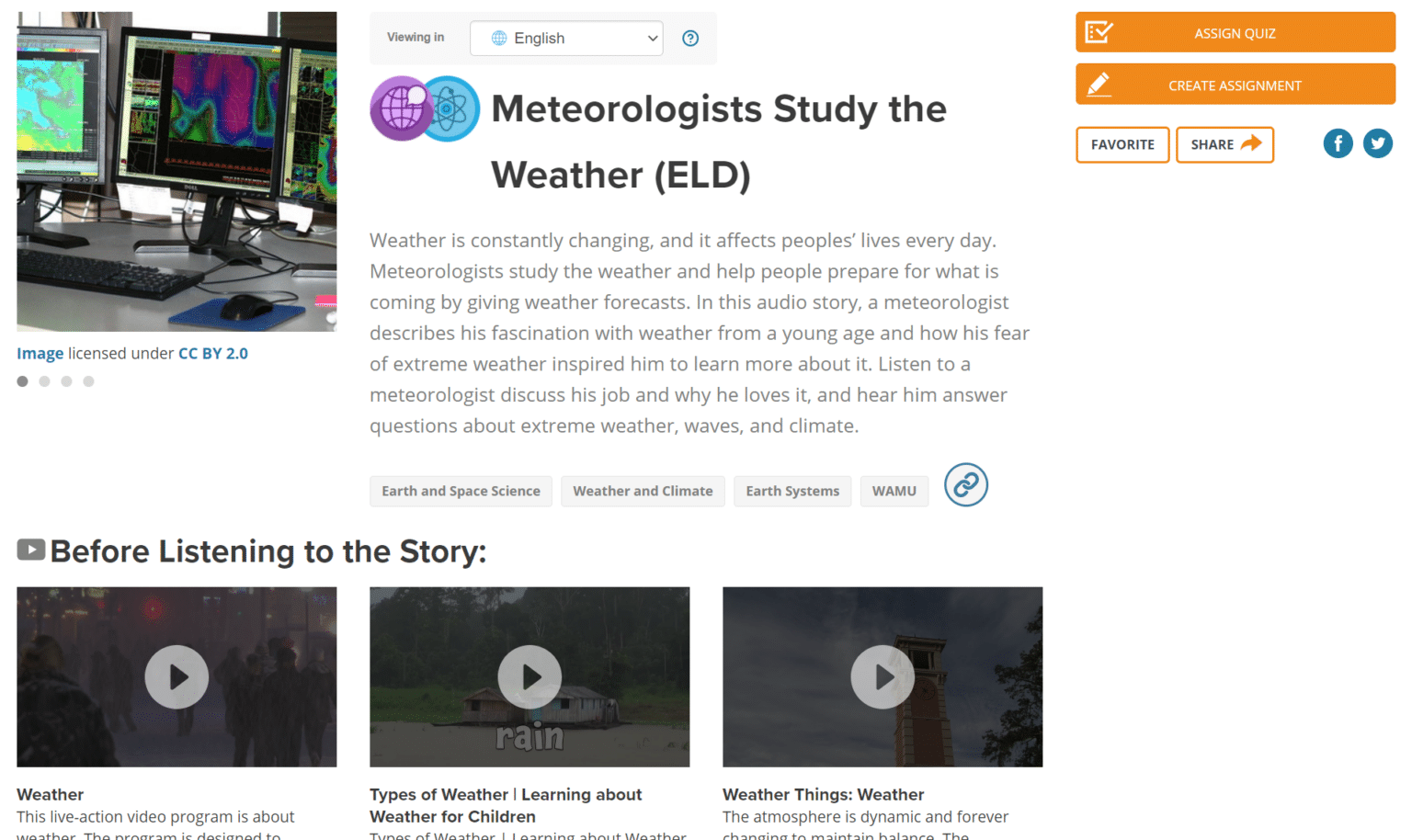 Authentic, engaging podcasts with interactive transcripts

Paired videos for background building with English captions and Spanish subtitles available

Auto-scored quizzes available in English and Spanish

Native language support with embedded Spanish translations and Spanish cognates
Watch the video below to hear from two Vista USD teachers who share how they have had success using Listenwise in their classrooms to engage their students in discussing relevant topics, building vocabulary and background knowledge, improving listening skills, and preparing for the ELPAC.
Principle Three: System Conditions That Support Effectiveness
Here, the California ELD Roadmap outlines the responsibility that each level of the school system has to ensure that leaders use valid assessment and data systems to "inform instruction and continuous improvement" and ensure responsiveness.
Listenwise makes it easy for teachers to monitor student progress via our large library of formative assessments. Teachers can use them regularly to determine where students are succeeding or need more support using our reporting by comprehension skills (e.g.: identifying the main idea, understanding vocabulary, etc).
Specific features of our built-in assessments include:
Automatically-scored quizzes (ELD lessons allow students to take quizzes in English or Spanish)

Drill-down reporting available at the student, class, and school levels

Option for student self-directed quizzing
Principle Four: Alignment and Articulation Within and Across Systems
This California English Learner Roadmap Principle asserts that English learners should experience a "coherent, articulated, and aligned set of practices and pathways" to English language acquisition. Pathways should begin with a strong foundation in early childhood, and continue on through reclassification and higher education or job opportunities. The result should be that upon graduation, students have the knowledge and skills necessary to participate in a global, multilingual, diverse world.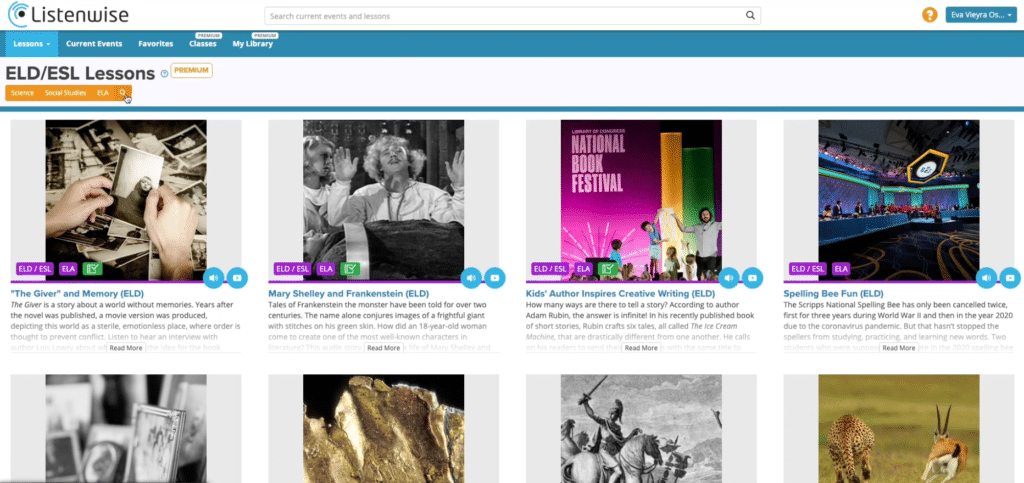 Listenwise's ELD lessons are specifically designed to support English learners from emergent level to reclassification and beyond. Our built-in supports are easily customizable to provide appropriate supports for students as they progress through language learning. 
All Listenwise podcasts and video lessons provide real-world content about twenty-first century issues that affect students' lives. By teaching content and language together, our platform makes it possible for students at various levels of English language development to engage with topical issues in a comprehensible way. 
Moreover, data shows that using Listenwise can help boost reclassification rates, making it an even more powerful tool for teachers. 
"It is challenging to find school-age listening materials that are relevant to students and match our students' proficiency levels. Usually teachers have to develop their own materials and find visuals to match. Listenwise is a platform that provides listening materials that meet the needs of students at the secondary level and more."

EL teacher, Sanger High School, Sanger, CA