Our new elementary podcast lesson collection features carefully curated podcasts designed to engage and excite students in grades 2-5. These short audio stories on current events and relevant topics in ELA, social studies, and science can generate writing and discussion, build vocabulary, and introduce or extend topic knowledge. Some podcasts lend themselves to a 30-minute lesson; others take as little as 10 minutes of instructional time and can fit into the beginning or end of the school day. Read on for details about what kinds of podcast lessons you will find at Listenwise, ideas for integrating podcasts into classroom instruction, and how to search for the stories that are best suited for your curriculum and your students.

If you don't have a Listenwise Premium subscription, a lot of the elementary lesson collection won't be available. Sign up for a free 30-day trial of Premium to explore the full elementary podcast collection.
What is in the Elementary Podcast Lesson Collection?
The elementary collection includes standards-aligned elementary lessons, Weird News, and current events. Read about how we have taken our success formula and applied it to carefully selected podcasts for younger students.

Standards-aligned elementary lessons are 3-5 minute long podcasts on engaging topics in ELA, social studies, and science. Like secondary lessons, each elementary lesson includes instructional activities before, during, and after listening, along with listening organizers, comprehension and discussion questions, and related external materials. Each elementary lesson also includes an additional brief synopsis written specifically for elementary students and an auto-scored multiple-choice quiz assessing four key listening comprehension skills: recognizing literal meaning, understanding vocabulary in context, making inferences, and identifying the main idea. Lessons address popular topics such as hibernation and the Lewis and Clark expedition.
Weird News stories are 30-second podcasts that are funny, unexpected, and engaging for kids. Each story synopsis features highlighted vocabulary words that are incorporated into comprehension and discussion questions. For example, stories such as Space Cookies and Beekeeper Police Unit offer intrigue, humor, and great opportunities to learn academic vocabulary in context. These short audio stories are especially well suited for quick vocabulary-building activities with a fun spin.

Current events feature news stories grabbed from the headlines that are interesting and instructive for students. We publish an elementary-level current event every Wednesday, including listening comprehension and discussion questions as well as an auto-scored multiple-choice quiz. These stories work well for a brief weekly current events lesson, a learning station activity, or listening comprehension skills practice and assessment. Timely stories about a famous African elephant and a teen who discovered a planet, for example, are selected for high engagement value.
New podcasts are added regularly to our growing elementary collection. Search the full collection here. To learn more about where we source our elementary podcasts, see Elementary Podcast Lesson Sources on Listenwise.
4 Ways to Use Elementary Podcasts
All elementary podcast lessons offer a variety of possibilities for classroom use. Podcasts can be played for the whole group while students follow a transcript projected on a screen and then discuss what they have heard. Students can listen to podcasts individually, take the auto-corrected quiz, and explore discussion questions in writing or in conversation with a partner. Using Google Classroom, teachers can assign podcast lessons for students to complete at their own pace over the course of a week. Alternatively, students can rotate among learning centers or stations, with a Listenwise podcast lesson as one of several activities.
Here are a few more suggestions for incorporating Listenwise elementary podcasts into your classroom routine:
Morning Meeting: When students gather to begin the school day, play a Weird News story such as Cat's Great Escape (vocabulary: agenda, contained), Chance of Falling Iguanas (vocabulary: uncommon, tumble, advice, slumber), or Penny Pyramid (vocabulary: demolish, unconventional). The short, off-beat stories will grab and hold their attention. You can review the vocabulary words and replay the story, or just ask students to respond orally or in writing to the questions that incorporate the words.
Before Dismissal: Play a Weird News story to help calm restlessness in the last 10 minutes of the day. Ask students to discuss the comprehension questions with a partner to ensure understanding, or use the discussion questions for group exchange before the bell.
Weekly Feature: Set aside a weekly time slot of about 20-30 minutes when students can listen to an engaging podcast while following along with the transcript projected on a screen. Some high-interest options include The History of Chocolate, Animal Superpowers, or Saving to Splurge on Something. After introducing students to the topic, ask them to use the listening organizers to focus their attention during the podcast. After listening, students can respond in writing to questions, discuss their ideas with a partner, or take the auto-corrected quiz. Results from the quiz will help you monitor students' listening comprehension skills.
Long-Term Assignment: If you use Google Classroom, you can invite students to work on a podcast lesson at their own pace. You can assign the same or different stories to each student. Select which activities they should complete, such as filling in the listening organizer, taking the quiz, answering comprehension and discussion questions, reading the paired text, and more. For example, students can listen to Garbage in the Sea, answer the listening comprehension questions, and then read a complementary article about what they can do to prevent ocean pollution.
To learn how one 4th grade teacher used the Bird Mystery podcast to explore bird migration and teach vocabulary, see Teaching with Podcasts in the Elementary Classroom.
For ideas about how to use the elementary collection for remote learning, see Setting Up Listenwise Classes for Remote Learning.
How to Search for Elementary Podcast Lessons, Weird News, and Current Events
To find elementary lessons:
Go to your Teacher Dashboard. Click "Lessons." In the drop-down menu, click "Search."
Select the filters you prefer. For "Grade Level," be sure "Elementary" is checked and "Middle School" and "High School" are not checked. Under "Type," be sure "Lessons" is checked and "Current Events" and "Collection" are not checked.
If you want to search for a specific topic, simply enter the topic into the search bar after making sure the filters are correctly checked.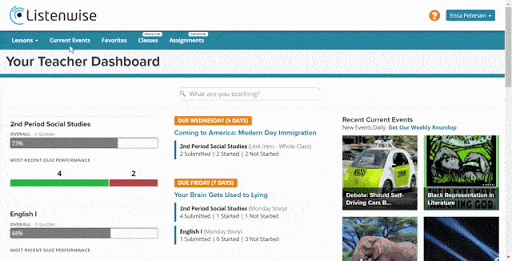 To find Weird News:
Go to your Teacher Dashboard. Click "Lessons." In the drop-down menu, click "Search."
Enter "Weird News" in the search bar, and hit the "Return" key.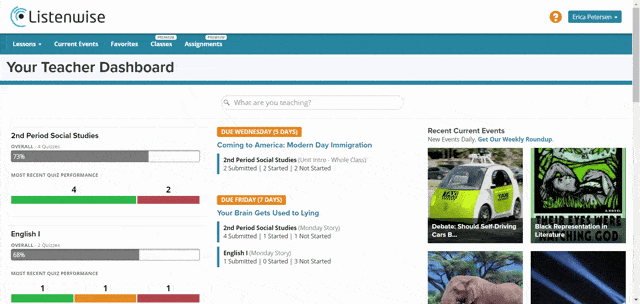 To find current events with quizzes:
Go to your Teacher Dashboard. Click "Lessons." In the drop-down menu, click "Search."
Scroll down to "Type" and make sure "Current Event" is checked and "Lessons" and "Collections" are not checked.
Check "with Quiz" and click "Search."