We are excited to now feature Lexile audio measures on every podcast in Listenwise Premium! This is a major advance in helping educators connect students to audio content at a level of complexity that is appropriate for their listening comprehension skills.

Watch our On-Demand webinar:"Leveraging the Power of the New Lexile Audio Measures" co-presented with Metametrics to learn about how these measures can be used to deepen literacy instruction.
What Lexile Audio Measures Mean for Literacy
Listening is an important part of literacy – both in the school years and beyond. However, until now, there has not been a standard system for measuring the complexity of audio content. For years teachers have asked for more information about how easy or difficult a Listenwise story would be for their students. This new Lexile audio measure provides a valid and reliable research-based approach to leveling listening comprehension.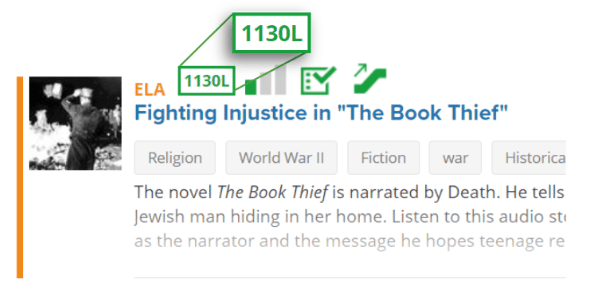 How do educators use Lexile audio measures in Listenwise?

Lexile measures enable teachers to find stories at the right level of complexity for their students, so that they will be challenged without being frustrated. The measures are categorized as low, medium, or high to help teachers with story selection when they do not know students' Lexile listening levels.

Sign up for Listenwise Premium to explore all the Lexile-leveled podcasts!

If I already know a student's Lexile reading measure, can I use that to choose podcasts for my students?

The Lexile audio measure is distinct from the Lexile text measure. Educators familiar with the Lexile FrameworkⓇ for Reading will discover that students' listening levels might be higher or lower than their reading levels. To help teachers identify appropriate Listenwise content for their classes, we have provided guidance about ranges of Lexile audio measures for grade level instruction. However, in the absence of listening measure data, the Lexile reading measure can be used as a starting point to estimate listening levels.

How do I find Listenwise podcasts by Lexile audio measure?
Every podcast is labeled with a Lexile audio measure. You can filter your search to find podcasts within a certain range, or you can search by topic and scan the results to see which ones have audio measures that fit your class.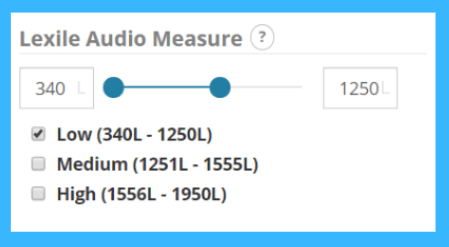 Do you provide grade level ranges for Lexile audio measures?

We provide recommendations for use of Listenwise content by Lexile ranges. In general, elementary educators may want to start with low level stories (Lexile levels 340-1250L), middle grade educators with medium level stories (1251L -1555L), and high school educators with high level stories (1556L-2000L). Appropriate Lexile audio levels will vary by student – the key is to challenge students without frustrating them.

We also provide recommended ranges by grade level for teachers using Listenwise Premium. These recommendations are for instructional use and assume the use of Listenwise comprehension supports such as interactive transcripts, etc. Simply click on the Lexile audio measure to display the recommended Lexile audio ranges for each grade level.
As always if you have issues or questions reach out to us at support@listenwise.com.