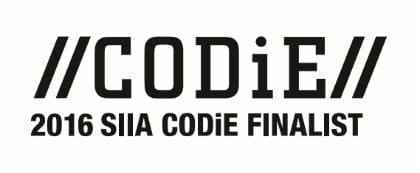 We are excited to be named a SIIA Education CODiE Award Finalist for the Best ESL, ELL or World Language Acquisition Solution! The SIIA CODiE Awards are the premier awards for the software and information industries, and have been recognizing product excellence for over 30 years. Learn more about the CODiE award here and read the press release.
We are proud to be on the forefront of innovation for Education technology tools to address the challenges of learning a new language.  English learners are a growing and underserved population, so we are very excited to be awarded in the ELL category which has not been widely recognized before. Our ELL supports are critical for success with English learners, but also benefit ALL learners. Our authentic stories engage ELLs with real world content and include scaffolding strategies to help students learn vocabulary as well as listening comprehension skills.  Our CEO Monica Brady-Myerov says:
"We are very excited and honored to be named a 2016 SIIA CODiE Award Finalist. The benefits of using authentic audio stories in the classroom are undeniable—interesting stories about the real world that expose intermediate and advanced English Learners to more spoken academic English.  Each lesson comes with built in literacy supports such as interactive transcripts, vocabulary and reduced speed audio. Teachers and students love it!"
The second round of voting is now in session until May 6, when SIIA Members vote for the best finalist products. Winners will be announced during a virtual award ceremony on May 18.