Polls indicate that in the wake of George Floyd's tragic death last summer, millions of people attended Black Lives Matter or police brutality protests. Estimates suggest that the number participating may have been 4-5 times as many as attended the 2017 Women's Marches, which held the record previously. This data suggests that more than ever before, Americans understand that what happens to Black Americans matters for all Americans. Their success and struggles are a reflection of our country's values and a part of our rich and complex history. And teaching about race and racism is important and especially critical at this moment in American history. The nomination of the Black Lives Matter movement for the 2021 Nobel peace prize recognizes the significance of its work worldwide.
As always, we hope that teachers recognize Black History Month with students this year. It is a time for students to contemplate our nation's history and develop a deeper sense of cultural consciousness. In his essay, "A Talk with Teachers," James Baldwin wrote: "The paradox of education is precisely this—that as one begins to become conscious, one begins to examine the society in which he is being educated." This captures the value and the challenge of leveraging Black History Month in the classroom. It is a time for students to contemplate our nation's history and develop a deeper sense of critical consciousness.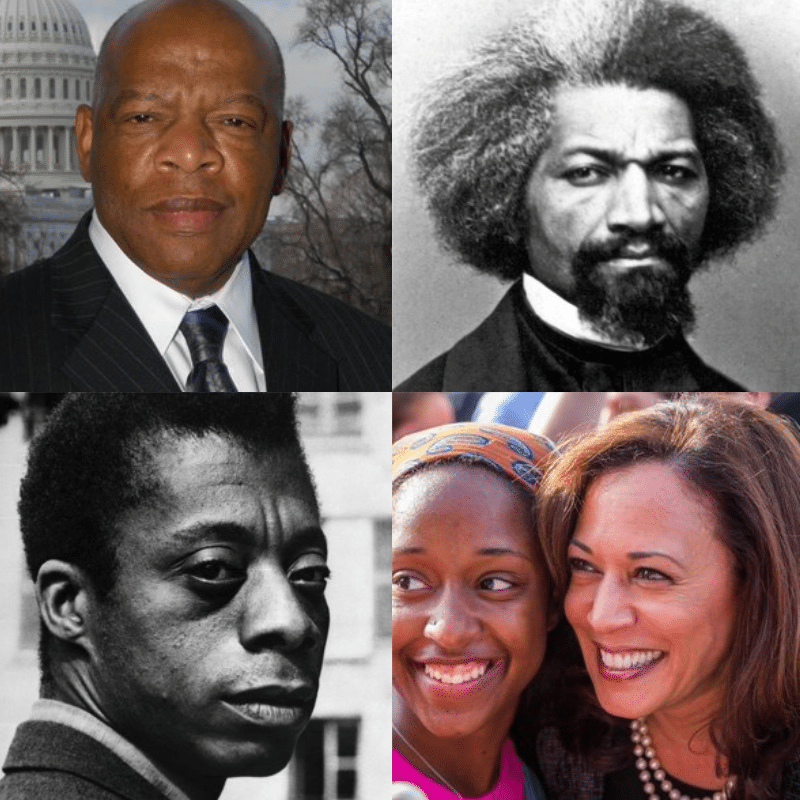 Consider the following questions about what happens in your classroom from Teaching Tolerance:
How often do your students learn about the contributions of black individuals to U.S. society?

Are your students able to explain to someone else the contributions that black individuals have made in the United States?

How many books or other texts by black writers do your students read during the academic year?

How many books or other texts do your students read during the academic year that highlight black experiences?

If your students' readings have black characters, do these characters have positions of power?
This month offers an opportunity to deepen cultural responsiveness in both content focus and teaching practice. We support your efforts with these lesson ideas and resources that can be used to address black history and its relevance to current events and to highlight underrepresented groups within the curriculum all year round. Read more about the history of Black History Month, and consider using the lessons and resources below this month or any time.
Listenwise Resources
Listening to audio stories featuring people's voices can connect students to specific moments in time and promote understanding of others' perspectives. One teacher asked students to listen to an audio story describing the desegregation of Central High School in Little Rock, Arkansas during the Civil Rights Movement. The teacher said:
The violence and struggle to gain voting rights became real after listening to the emotions of the speakers and sounds from the event. It really helped students develop empathy, which is harder to do through traditional texts.
The Listenwise stories below can be integrated into classroom lessons in a variety of ways:
Black Youth In Action
12-Year-Old College Student Loves Space
Debate: Should 16-year-olds be allowed to vote?
Teaching Black History as American History
All-Black Rowing Team Wins in Life
Diversity in Children's Literature
Young Inaugural Poet on her Journey
Celebrating Individuals
Past
Chinua Achebe – Achebe on Heart of Darkness
Marian Anderson –Marian Anderson and Our Nation's Capital
Muhammad Ali – Remembering Muhammad Ali
Maya Angelou – Maya Angelou's Life and Legacy
James Bladwin – James Baldwin: Writings on Race, Class and Civil Rights 
Frederick Douglass – How Photography Helped Abolition
Ernest J. Gaines – Ernest J. Gaines: Fighting Illiteracy with A Lesson Before Dying
Lorraine Hansberry – Motivation for Writing A Raisin in the Sun
Langston Hughes – Letters From Langston Hughes
Zora Neale Hurston – A Guide To Florida From Zora Neale Hurston
Katherine Johnson – Black Women Math Heroes at NASA
John Lewis – Remembering Civil Rights Icon John Lewis
Toussaint Louverture – Haitian Revolution for Freedom Led by Former Slave
Phyllis Wheatley – Phyllis Wheatley: America's First Black Poet
Wangari Maathai – First African Woman To Win Peace Prize
Nelson Mandela – Nelson Mandela's Fight for Freedom in South Africa
Piye – Nubian Pharaohs
Jackie Robinson – Jackie Robinson and Integrating Baseball
Harriet Tubman – Honoring Harriet Tubman; Harriet Tubman's Birthplace; Harriet Tubman's Story
Perry Wallace – Integrating College Basketball in the South
Richard Wright – Richard Wright's Life Informed His Writing 
Malcolm X – The Unfinished Life of Malcolm X &  Remembering Malcolm X
Present
Joshua Bennett – A Poet Celebrates the Owed
Kamala Harris – VP-Elect Kamala Harris Inspires Youth
Kerry James Marshall – African Americans in the Art World
Michelle Obama – Michelle Obama On Becoming 
Claudia Rankine – Hair Color and Racial Identity
Tracy K. Smith – Connecting through Poetry
Angie Thomas – Angie Thomas: The Hate U Give and the Call to Activism
Kehinde Wiley – Rumors of War Sculpture 
History of Resistance
Slavery, Abolition, and Reconstruction
1619: Anniversary of Slavery in America
Experience the Life of a Slave
Slaves and the American Revolution
Civil War's First African American Infantry
New Museum Captures History of African-Americans
Debate: Should Congress Consider Reparations for Slavery
Debate: Should Statues of Historic Figures with Complex Legacies Be Removed?
The Civil Rights Movement 
How Martin Luther King, Jr. Channeled His Anger
Martin Luther King: I Have A Dream
Forgotten Civil Rights Activist
Racial Integration at Little Rock Decades Later 
Integrating Central High: A Pivotal Moment in the Civil Rights Movement
George Wallace at the School Door
Lunch Counter Protests of Civil Rights Era
Historic African-American Neighborhood Remembered
Black Lives Matter
Systemic Racism Drives Protests
Marching on Washington: Then and Now
Comparing Black Lives Matter to Civil Rights Movement
Debate: Should Social Protest Affect Football?
Verdict in St. Louis Ignites Protests 
Racial Issues on College Campus
Valedictorian Speech Causes Controversy
Other Black History Resources
Online Articles
Lessons/Teaching Materials
Contemporary Literature on Antiracist Pedagogies
Schooltalk: Rethinking What We Say About and To Students Every Day

, by Mica Pollock

Culturally Responsive Teaching and The Brain: Promoting Authentic Engagement and Rigor Among Culturally and Linguistically Diverse Students

, by Zaretta Hammond

We Want to Do More Than Survive:

Abolitionist Teaching and the Pursuit of Educational Freedom

, by Bettina Love

Rethinking Ethnic Studies

, edited by R. Tolteka Cuauhtin, Miguel Zavala, Christine Sleeter, and Wayne Au

Teaching For Diversity and Social Justice, 3rd Edition,

by Maurianna Adams