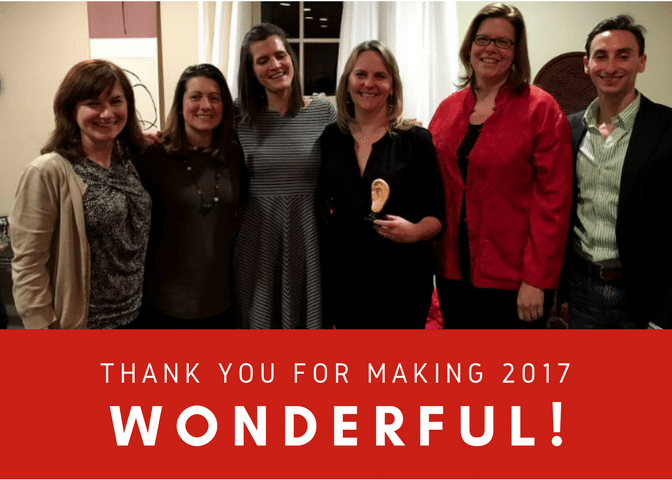 Wow, 2017 is almost over. We've been hard at work this year finding new, fun content, building more lessons, and implementing new features (our listening quizzes!).  So now, at the close of 2017 we want to take a moment to breathe and look back at everything that has happened this year, and thank you for all your support! Below we want to share some successes and big 2017 wins, and celebrate teachers and rock star users!
Let's celebrate some of our 2017 wins and amazing users!
We are excited to let you know that we now have over 1,000 current events!
This year we built out more teacher pedagogy resources- including a new teacher support center and multiple webinar series, along with really great fake news resources and a podcasting guide for teachers.
We are now used by educators across the U.S and worldwide, supporting 1 MM students (including both Listenwise free and Premium users).
We can't say it enough, but thank you to you all of our teacher users! We appreciate you! And we are always listening to your feedback. Please keep sharing your ideas and comments and helping us improve so that we can serve you and your students better.
Here are our top five most engaged educators! Thank you!
Kyle Maloney Winchester, MA

Erik Eve Lindenhurst, NY

Mischelle Poulos Orange, CA

Kate Bringardner North Naples, FL

Susan Balogh Brookline, MA
Listen to another high powered teacher user, Benton Lewis and what he finds most helpful about Listenwise.
Our Most Popular Stories of 2017
Check out our most popular stories…
Top 5 Stories of 2017:
Top 3 Friday Debate Stories:
We hope you all have a happy holiday season, whatever holiday you do or don't celebrate. Take some nice time with friends and family. We'll be off for the last week of December, and will be back for the new year. Get ready for some more great content (with new partnerships) for 2018! We are excited to have another great year and continue to bring more listening into more classrooms.
Happy New Year!