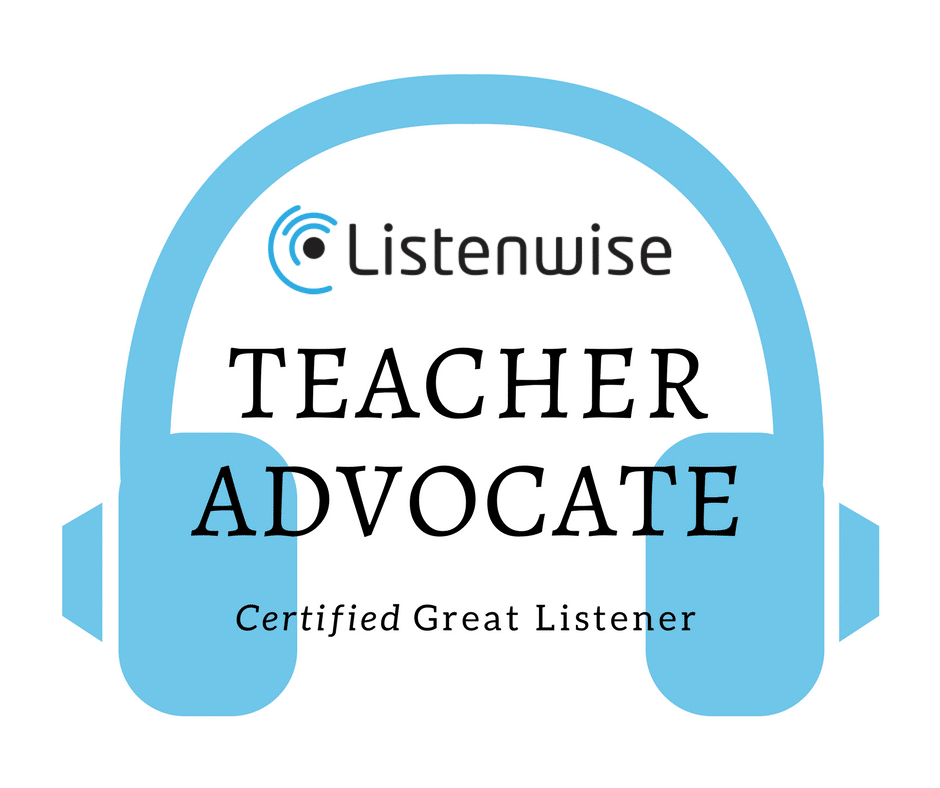 We are very excited to introduce the Listenwise Advocate Program! The program features a select group of educators who are enthusiastic experts in using Listenwise PREMIUM in their classrooms. The Listenwise Advocates will motivate the Listenwise community to further integrate Listenwise audio content into their teaching and improve students' listening comprehension. 
Learn more about this program and apply any time`
Meet the Inaugural Listenwise Advocates
Listenwise Advocates believe in harnessing the power of podcasts, public radio, and listening resources to enhance student learning. These awesome educators are innovative educators and we have had the honor of presenting with them in past conferences, workshops, and webinars. 
Meet the Advocates!
Katie Booth
Katie is a middle school teacher in California who teaches across all content areas. She holds a Master's Degree in STEAM education. She has been teaching for 6 years after making a career change from the business world. Listen to Katie share best practices using Listenwise.
Sebastian Byers
Sebastian teaches high school science in North Carolina. Interested in teaching students about climate change? Read Bringing Climate Change into the Classroom, Sebastian's blog that was recently published by PBS Education! 
Jim Bentley
Jim is a 5th and 6th grade teacher in Elk Grove, California. Check out Envisioning Lessons with Multimedia Text Sets, Jim's Listenwise webinar about how building multimedia text sets with Listenwise and other resources can both deepen and broaden student learning. Follow Jim on Twitter @Curiosity_Films

Scott Petri
Scott teaches high school history in California. Scott has collaborated with us on many webinars, most recently, How to Teach and Assess Listening. He is active on Twitter, where he regularly posts about the latest developments and discussions about education! Follow him @Scottmpetri

Erik Eve
Erik teaches 8th-grade social studies in Lindenhurst, NY. Watch this great video on how his students engage with Listenwise. Follow Erik on Twitter for lots of great history content! @mrevelindy

Andrew Garnett-Cook
Andrew teaches Ancient Mediterranean Civilizations and U.S. History in Brookline, MA. Looking for an interesting resource about history and public radio? We recommend watching Bringing History to Life with Public Radio, the webinar in which Andrew and Listenwise CEO Monica Brady-Myerov explore new ways to teach history within the context of current events.
Mike Messner
Mike is a high school social studies teacher in Los Altos, California who recently started his blog, Moments with Mike. You can follow him on Twitter @messner_mike

Michael Godsey
Mike is an ELA teacher in San Luis Obispo, California, as well as an active writer and creator of ELA resources. Curious about making podcasts with students? Check out Michael's Listenwise webinar, Creating Podcasts in Class, to learn about how to teach your students to be podcast writers, recorders, and producers. Follow Michael on Twitter @TheMrGodsey

Rosemary Miketa
Rosemary is an ESL professor at Henry Ford College English Language Institute in Michigan. She has taught English abroad in Australia, the UK, and Spain!
To learn more about the Teacher Advocate Program and how you can apply, check out our Listenwise Teacher Advocate Program page!