We mentioned our continued collaboration with Facing History and Ourselves in a previous post if you want to read more about it here. See below for Today's News, Tomorrow's History lesson and included resources. This series connects Facing History's themes with today's current events using public radio to guide and facilitate discussions around the social issues of our time. Today's post was originally published on Facing History LA's blog.
Education is often the key to successful integration of immigrants and refugees into new countries. Understanding the laws of the country for newly arrived people is also critical. In Sacramento, California a new program was started to help refugees and immigrants understand their legal rights in the United States. The goal of the "Understanding Your Rights" program in Sacramento is to protect the rights of every individual who comes in contact with the legal system and provide understanding of the laws if they become the victim of crime or when renting housing, as well as to understand their constitutional rights and civic responsibilities.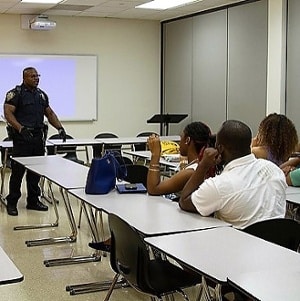 The program was developed in collaboration with the district attorney's office, police department, and schools. It was sparked by an increase in refugee groups moving into the area and a concern to educate them on their basic rights. Many immigrants from places such as Iraq, Afghanistan, and Russia may be hesitant to go to police officers, so they need education in how American laws may differ from their own country. Included in the training are victim rights, how to interact with law enforcement, the criminal justice system, and their role in the community. This program benefits immigrants and refugees in increasing their understanding as well as benefiting law enforcement by increasing the chance that criminal activity is reported.
The "Understanding Your Rights" program is offered on campuses across Sacramento, in a charter school network that teaches adults English, citizenship, and job training. Listen to hear more about this new program that will help people understand the laws in the United States.
Join the conversation:
What is the goal of the program to educate refugees and immigrants?
What are the reasons people might support or oppose this program?
Why do you think people who are from Iraq, Syria, Afghanistan and Russia might be afraid to contact law enforcement officials?
What is your opinion of this new program? Do you think it will be successful in meeting the goals? What do you think would need to be included in this program to make it successful?
Keep the conversation going with Facing History:
Explore more stories about refugees and immigration from Listenwise.