Today's guest post is written by WOW in the World, a STEM-oriented podcast for students K-6.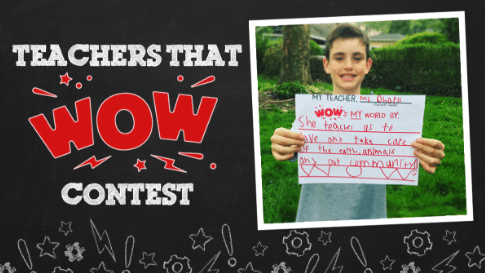 In honor of Teacher Appreciation Week, Wow in the World is holding a very special contest. Through our Teachers That Wow Contest we are seeking amazing teachers wowing their student's worlds every day. We know you're out there and we want to celebrate you! Families can find contest details and rules at https://tinkercast.com/teachers/. If you can best express how your teacher inspires you, there is a chance you could win a video call from Guy and Mindy for your class. Think of it as a virtual classroom visit!
But wait, there's more! We're also offering teachers everywhere free access to Wow in the World's weekly digital resources for the rest of the month! Why? Because we love teachers and we want fabulous ones like you to bring even more WOW into your world- your classroom world that is! Our hope is that while listening to the show with your students, you'll all learn something new and perhaps be inspired to further explore that something together. Lucky for you, we at Wow have lots of resources to help you do just that! Like the free Conversation Starters we post online with every episode, as well as, all of the digital resources available to our members. We've got tons of extension activities like experiments, crafts, recipes and related book lists to keep the WOW flowing in your classroom. Check out our most recent ones right here.
Wow in the World is a STEM-oriented podcast for K-6 students hosted by Guy Raz (NPR's Ted Radio Hour, How I Built This) and Mindy Thomas (Sirius XM's Kid's Place Live). Every week, Guy and Mindy guide curious kids and their grown-ups on exciting journeys into the wonders of the world around them.
For every episode, we pour through peer reviewed scientific journals looking for stories of hope, innovation, progress and discovery that spark a sense of wonder and compel grownups and children to lean in and say "WOW"! Then we tell those stories through a fun fact meets fiction narrative that's as zany as it is brainy. Recent episodes have invited listeners to explore the who, what, when, where, why, how and wow of topics such as antibiotic resistance, climate change, and the future of artificial intelligence.
We look forward to lots of classrooms joining us on this big adventure!
Keep on WOWing,
Team Tinkercast