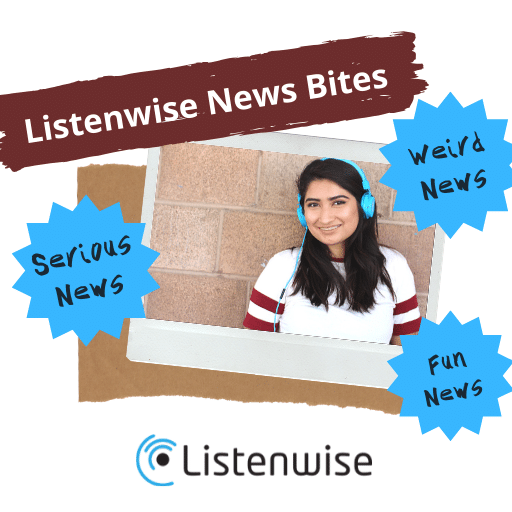 We are always looking for more ways to share the great podcasts we feature every day in our Current Events collection at Listenwise. Recently, with the closure of schools, we realized it's more important than ever to give students a variety of ways to connect with these stories. How could we make it easier and require less bandwidth?

The answer: The Listenwise News Bites Podcast

We select three of the best stories from our recent current events and turn them into a weekly podcast with thought-provoking questions posed to the listener. The podcast is hosted by veteran public radio reporter (and founder of Listenwise) Monica Brady-Myerov. It features primarily stories from NPR, a leader in balanced reporting. The podcast format offers a few advantages over listening on the Listenwise website or a mobile device.

Low Bandwidth – Accessing a podcast on a smartphone requires minimal bandwidth over a short period of time. Once you've downloaded the episode, you can listen off-line. This is great for students who have limited access to broadband internet and might be using hotspots for internet access. And if they subscribe through the Apple app, Spotify (or wherever they get their podcasts), your students will be delivered an episode weekly.
Independent Listening – The podcast inspires independent listening. Teachers or parents don't need to assign the podcast, as they would on the Listenwise platform. We know the engaging, funny, and informative stories will keep young listeners interested in listening on their own.
Thought-provoking – Listenwise is produced by the same curriculum developers who bring you the listening comprehension and discussion questions and teacher resources on the Listenwise platform. Each story in the podcast is followed by a question for student reflection, such as, "What can you do to help people during the coronavirus pandemic?"
Relevant and Fun – Informative, engaging podcast stories are curated for kids ages 7-18. Currently, many stories are related to the coronavirus pandemic in some way. Each podcast episode also features a 30-second Weird News story that is unexpected and funny. Did you hear the one about the falling iguanas? Or how alligators can help you keep your social distance?
If you are a parent looking for informative podcasts that won't feel like school, you will love the Listenwise News Bites Podcast. If you are a teacher who wants to give your students something fun AND educational to do over the summer, tell them to download the podcast today on Apple Podcasts, listen on Spotify or Libsyn!