Suddenly switching over to remote learning was hard. And while there's no sign of remote learning going away, there are definitely ways we can make it easier!

As teachers moved into remote instruction, they became more dependent on using Listenwise platform features for managing assignments and had some great ideas for improvements. So we've made a number of updates to our assignment processes that will make it easier and faster for all teachers and give them more control. Most of these new features apply to both written assignments and quizzes.

Assign to multiple classes at once
Schedule assignment availability
Assign with specific time due in local time zones
Share assignments to Google Classroom more conveniently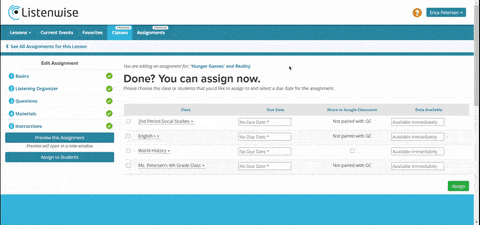 Here's a few more details about each of them…
1 – Assign to multiple classes at once
This should speed up the assignment process for teachers using a common assignment across multiple classes. You can set the assignment details all on one page, and it's totally fine to have different due dates for different classes or pick just a few students from one class but assign to all of another.

2 – Schedule assignment availability
This feature request really popped to the top of the list when teachers started remote instruction. Now that students were online for school work outside of class time, teachers asked for more control about when students would get access to new assignments. We added a new "Date Available" option so teachers can set a date and time in advance if they don't want students to get the assignment immediately.

3 – Assign with specific time due in local time zones
Without kids in the classroom, it's hard to say "submit your assignments now." So we've added an optional "Time Due" for all assignments and quizzes. Of course having a "time due" wouldn't be so easy if it weren't in your local time zone, so we'll be setting up each Premium school with the appropriate local time zone. Local time zone will apply anywhere you see a time setting or submission time stamp.

4 – Share assignments to Google Classroom more conveniently
We've made it more convenient to share written assignments to Google Classroom by providing that option right on the "Assign" page. If you've created your classes by importing a roster from Google Classroom, this option will be available automatically, similar to what you've experienced with assigning quizzes. If you don't set up classes with Google Classroom, it will be hidden.
Have other suggestions for remote learning features? Thoughts about these new feature updates? Please share in the comments below!