While COVID-19 and the transition to remote & hybrid learning has been overwhelming for many, Listenwise has been busy making updates and creating resources to help you teach listening regardless of your students' learning environment.
Here's a checklist to help you get ready to use Listenwise Premium with students in the new school year:
Delete Old Classes & Create New Classes
Enroll Students
Explore New Content
Assign Listenwise Podcasts
Discover our Remote Learning Resources
1. Delete Old Classes & Create New Classes:
Prep for the new year by deleting last year's classes and setting up your account for the new year.
To Delete Old Classes: From the Classes page, go to the Manage Classes tab and click on the 3 dots menu for the class you want to delete. Click the red "Delete Class" button.
To Create New Classes: From the the Manage Classes tab on the Classes page, you can either import your Google Classroom Rosters or manually create new classes by clicking the buttons on the left. Google Classroom teachers! Check out the Listenwise + Google Classroom Guide for detailed instructions on all of our integration from single sign-on to assignment sharing.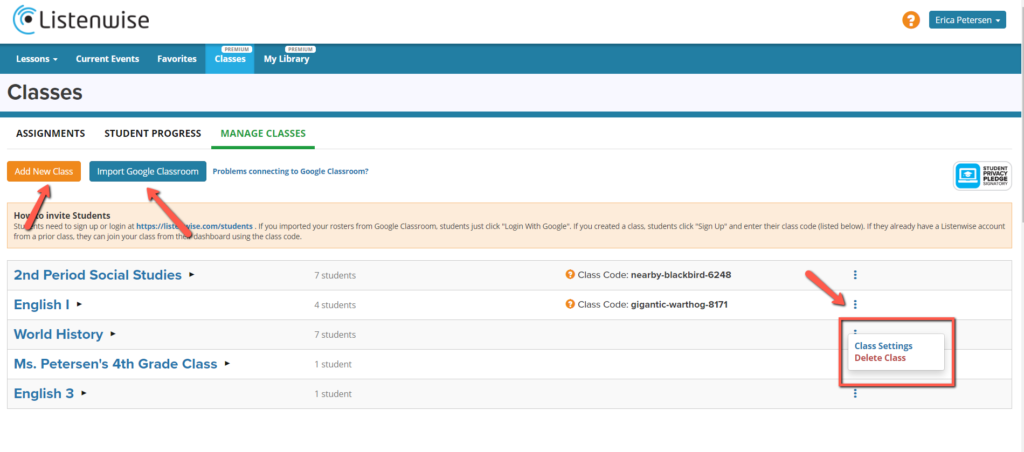 2. Enroll Students
We know it can be hard to share new tools with students during remote learning, so we've created a few resources to help onboard students.

If you use Google Classroom, check out the Google Classroom Student Quick Start Guide, Student Intro Video and Parent Guide for Listenwise & Google Classroom (which can be easily translated!) that shows the experience for students with Listenwise and Google Classroom.

If you don't use Google Classroom, we've created a Quick Start Guide for Students Using a Class Code, Student Intro Video, and Parent Guide for Listenwise Using Class Codes (which can be easily translated) for you.

3. Explore New Content
We now have over 2,000 podcasts and over 400 quizzes on Listenwise!
We've added new podcasts across all subjects and levels, and here are some of the highlights:

Elementary Lessons: Standards-aligned and curated for grades 2-5, these stories are sure to engage students while remote. Read more about using podcasts for elementary instruction on our blog.

Weird News: These are quick and quirky stories featuring vocabulary words (perfect for English learners!). A new 30-second story is posted every Sunday.

Social Emotional Learning (SEL) Collection: This newly curated collection of stories is great for kicking off the school year by attending to students' social and emotional learning. Discussing these stories can help students get to know each other and establish a positive classroom culture, even if the classroom is virtual.

Teaching Race and Racism: We have curated resources and current event and lesson collections to help you engage students in meaningful discussions about race and racism.

Remember that you can use the new Lexile Audio Measure to find the right level podcast for your students. We also provide starter grade level recommendations – just click the ? icon by the Lexile filter on the search page or the Lexile Level icon on any podcast.
4. Assign Listenwise Podcasts
Once you find the right story for your students, it's easier than ever to assign work to students. Click "Create Assignment" on any story and follow the steps. Here are the changes we made for both written assignments and quizzes on the final step of the final assigning process:
– Assign to multiple classes at once
– Schedule assignment availability
– Assign with specific time due in local time zones
– Share assignments to Google Classroom more conveniently
The video below demonstrates the new written assignment workflow. For more details on each update, check out our blog post on our new 2020 product updates.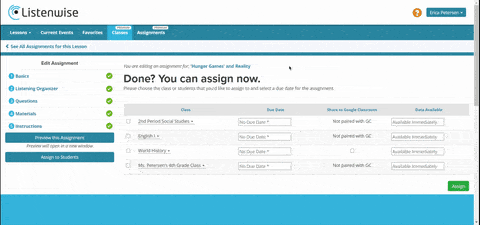 5. Discover our Remote Learning Resources
Listenwise has created a collection of resources to help you teach Listening during remote learning. This collection includes Adapting to Hybrid Learning Using Listenwise and Fun, Engaging Podcasts to Hook Students into Remote Learning.
We are also hosting a number of webinars focused on remote learning for back-to-school.
Watch our webinar recordings via our webinars page.