We recently held a webinar with author, educator, and multilingual thought leader Valentina Gonzalez, "Building the Listening-Reading Connection for Multilinguals." In this webinar, Gonzalez shared her valuable perspective on teaching both reading and listening skills to English language learners. Additionally, she shared two classroom strategies for teachers who want to leverage podcasts to deepen their multilingual students' language proficiency and build critical listening skills.
Did you miss the webinar? You can watch it right now on the Listenwise YouTube channel.
Below is a summary of the classroom strategies shared by Valentina Gonzalez during her conversation with Listenwise's Monica Brady-Myerov.
T-Chart, Pair, Defend
(Perryman and Seidlitz, 2011)
This activity gives ELs an opportunity to practice building arguments through conversation. Not only does this require active engagement from students, but it also builds listening comprehension and critical listening skills. 
Valentina Gonzalez recommends using "T-Chart, Pair, Defend" in combination with Listenwise's weekly debate podcasts. 
"The debate podcasts are fun for me because they're really compelling to students," explained Gonzalez, "They are about things that kids are going to be really interested in and want to hear."
First, choose a debate podcast for students to listen to and take notes about on a t-chart that represents opposing positions. Next, brainstorm ideas on the t-chart as a class. Gonzalez recommends that teachers write out the t-chart by hand while students dictate their responses out loud. 
Let's take a look at what a t-chart would look like for the lesson, "Debate: Should Podcasts Be Regulated?"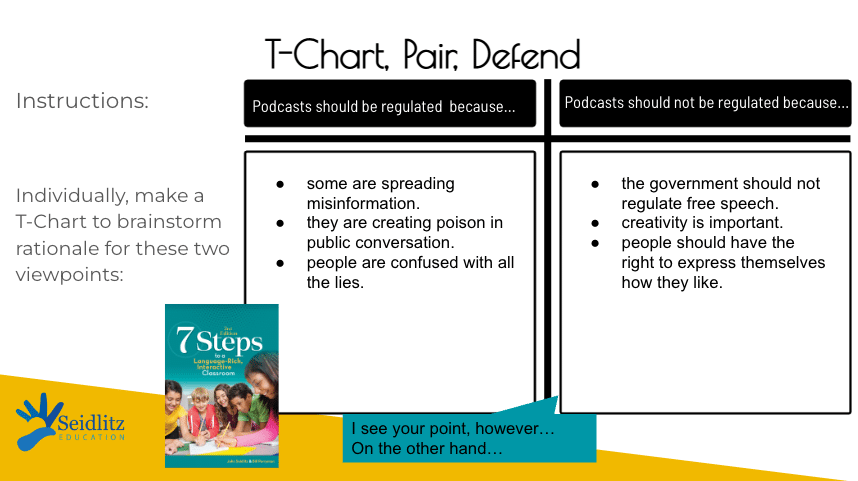 Then, pair students and have them take turns role-playing each side of the t-chart. Ask one student to start off their mini-debate using their starter sentence from the t-chart. For example, Student A says: "Student B, I think that podcasts should be regulated because… some are spreading misinformation." In response, Student B might say: "Student A, I see your point, however… podcasts should not be regulated because… the government should not regulate free speech." In this example, students are reading directly from the content in the T-Chart, however some students may want to elaborate their answers.
Finally, partners switch sides and are asked to take the opposing point of view. If you have time, you may want to finish the lesson by having students complete a writing assignment where they get to choose a side and write out their personal opinion.


Somebody-Wanted-But-So-Then
(Kylene Beers, 2003)
Somebody-Wanted-But-So-Then (SWBST) is a strategy designed to be used during or after reading as a framework for summarizing a story. By using this technique, students identify and summarize the action of a story, its key elements, main ideas, etc.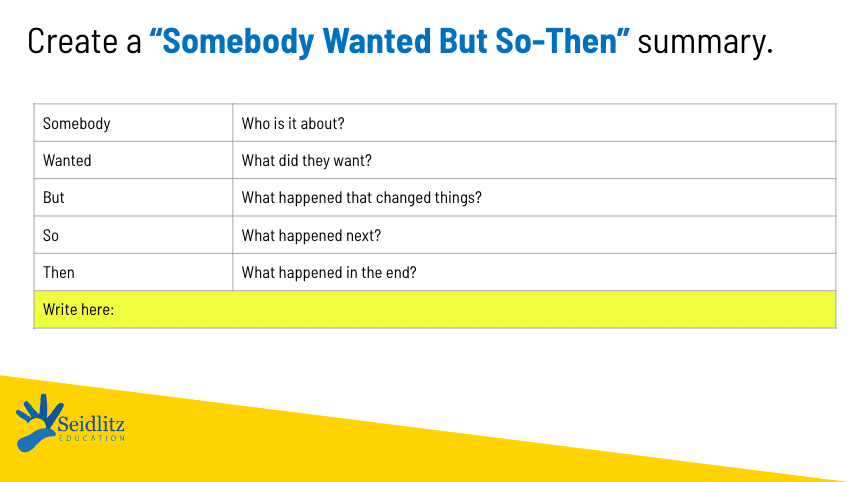 Valentina Gonzalez recommends using Somebody-Wanted-But-So-Then as a teaching strategy to help English language learners build critical listening skills by summarizing a story after listening. Look at the example below for an idea of how a teacher might use SWBST to help students deconstruct a Weird News podcast like "The Ketchup Thief":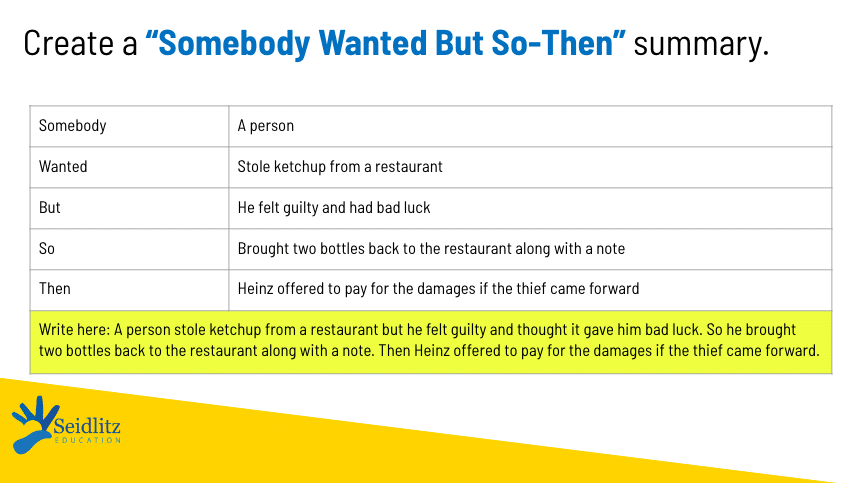 "If I had a multilingual student listening to this I would definitely have them listen to it multiple times before we filled this out," said Gonzalez, "I would slow it down for them, use some visuals — [use] all the scaffolds that a child might need; every child is different."

– Valentina Gonzalez