It's conference season! Late February and March 2019 have been as busy as last year (see our blog recap last year.) Here's what we did and learned in the last month…
CATE
In late February Monica attended the California Association of Teachers of English (CATE) conference. This year it was held in San Francisco, CA with the theme "Voices of Literacy in Pursuit of Human Rights." It was exciting to meet so many devoted Listenwise teachers at our booth. One group of teachers from Iron Horse Middle School even told her they all left their substitute teachers with Listenwise lessons to use in class that day. What a great application for pre-made quizzes or differentiated assignments!
If you missed Monica's presentation or are interested, check out the slides on "Reimagining Literacy with World Class Podcasts: Why and How." In her presentation she played a clip from one of our ELA teachers. Listen to Carolyn Brown share how she uses audio stories to address a wide variety of learning goals.
CUE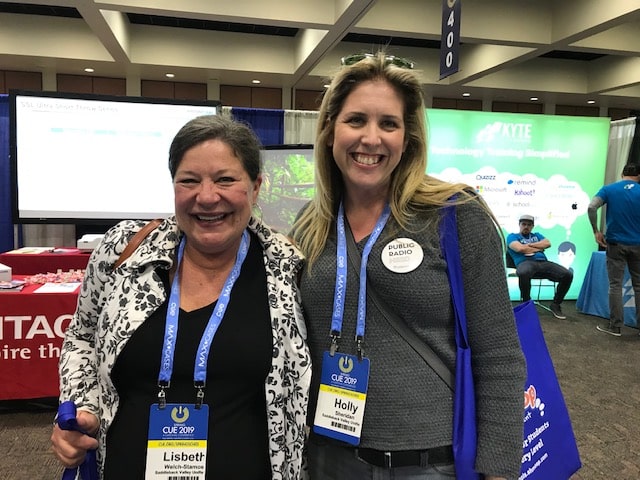 To kick off our March conference month, Adam and Chelsea went to the Computer Using Educators (CUE) conference in Palm Springs, CA. This year's theme was "Positive Effect of Education Technology on Student Achievement" and we exhibited and presented "Teach Your Students to Listen Critically."
It was great to run into lots of customers and free teacher users, including our friends in Santa Maria Bonita, Bonita USD, LAUSD, and San Marcos.
We were fortunate to be able to visit Tara Baldwin's class at James Workman Middle School in PSUSD. She integrated Listenwise into her instruction to address all modalities of literacy: listening, speaking, reading, and writing. She also incorporated thinking maps into the lesson, which are great tools for synthesis and analysis of written and oral texts. In her station rotation model, she implemented StudySync, MY! Access, Flocabulary, and Rezzly. It was also great to connect with California partners at KQED and Facing History and Ourselves LA.
We also got to spend time with teacher advocates Benton Lewis and Scott Petri. It was great to hear feedback about their classroom use of Listenwise and share some time away from work, just hanging out! We have heard the need for adding younger audio content and are thinking about how we can do that! Find pictures from CUE on our Facebook page.
CCSS
Our Listenwise Advocate, middle school social studies teacher Andrew Garnett Cook, was at California Council for Social Studies (CCSS) Conference exhibiting and presenting on "Engaging Students as Citizens of the World."  The focus of the presentation was using current events as a way to help foster an awareness of our global connection among students.  Scott Petri, another Listenwise teacher advocate presented on "50 Minute Inquiry," and you can find his slides here.
CABE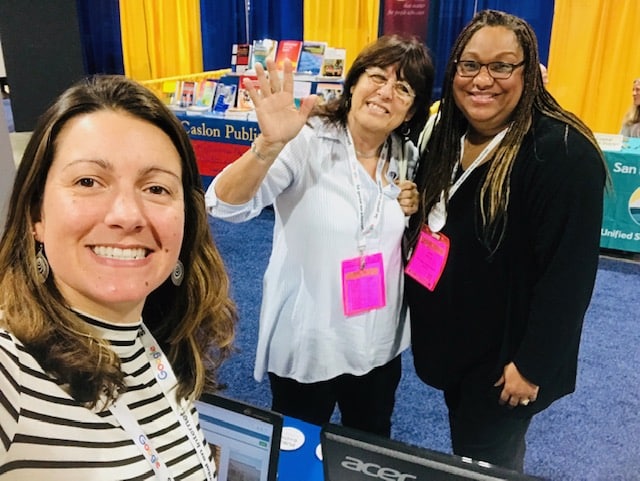 Finally, we exhibited and presented at the (California Association for Bilingual Education (CABE) conference in Long Beach, CA. The topic of our presentation was "SEL for EL Students Through Listening."
We also were able to connect with customers and free teacher users. We loved geeking out over our favorite Listenwise stories (e.g., Whale Saves Woman from Shark) and hearing feedback on how students are engaged by Listenwise. One teacher does a silent journal activity with Listenwise to incorporate listening and writing skills together, which we thought was a great idea. We heard your feedback about adding quizzes to current events. (Stay tuned for an announcement about that soon!)
It was great to meet our partners from Birmingham Community Charter School, Sanger, Santa Maria Bonita, Bonita USD, LAUSD, San Marcos and so many more!
It is always a pleasure to see teachers in person and learn about how they use Listenwise! We are energized and committed to support our multilingual students! Find more pictures on our Facebook page.
Stay tuned for more in-depth stories that we can share about how teachers use Listenwise in different ways in the classroom! Also, please feel free to share cool links and resources in comments from great PD, webinars, or conferences you have attended recently!