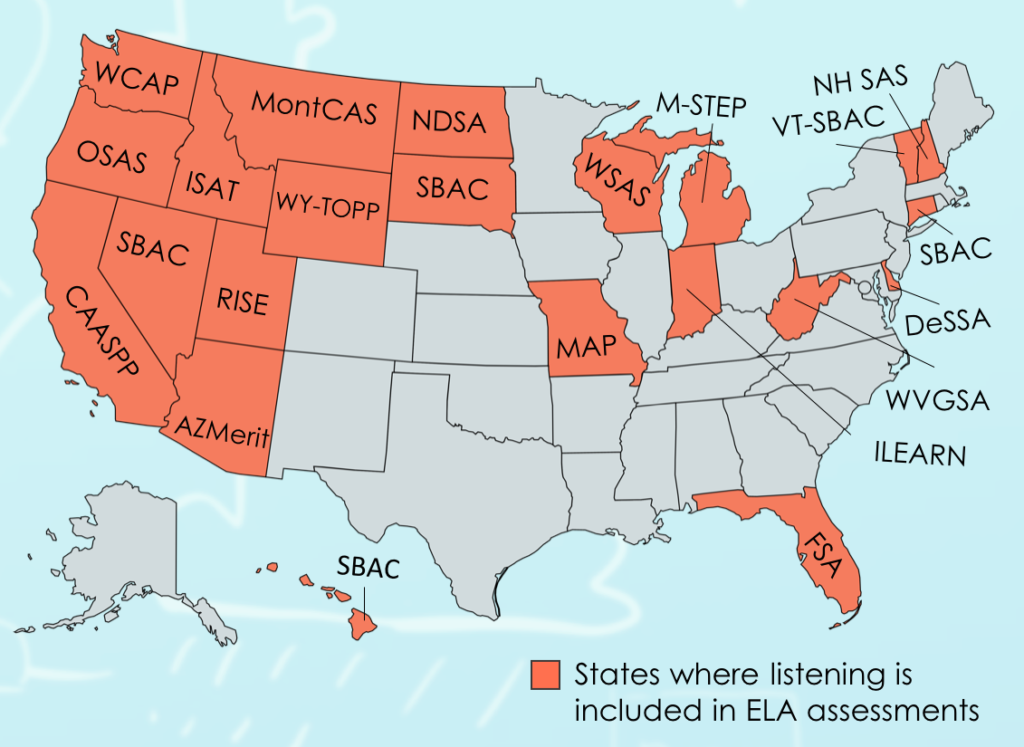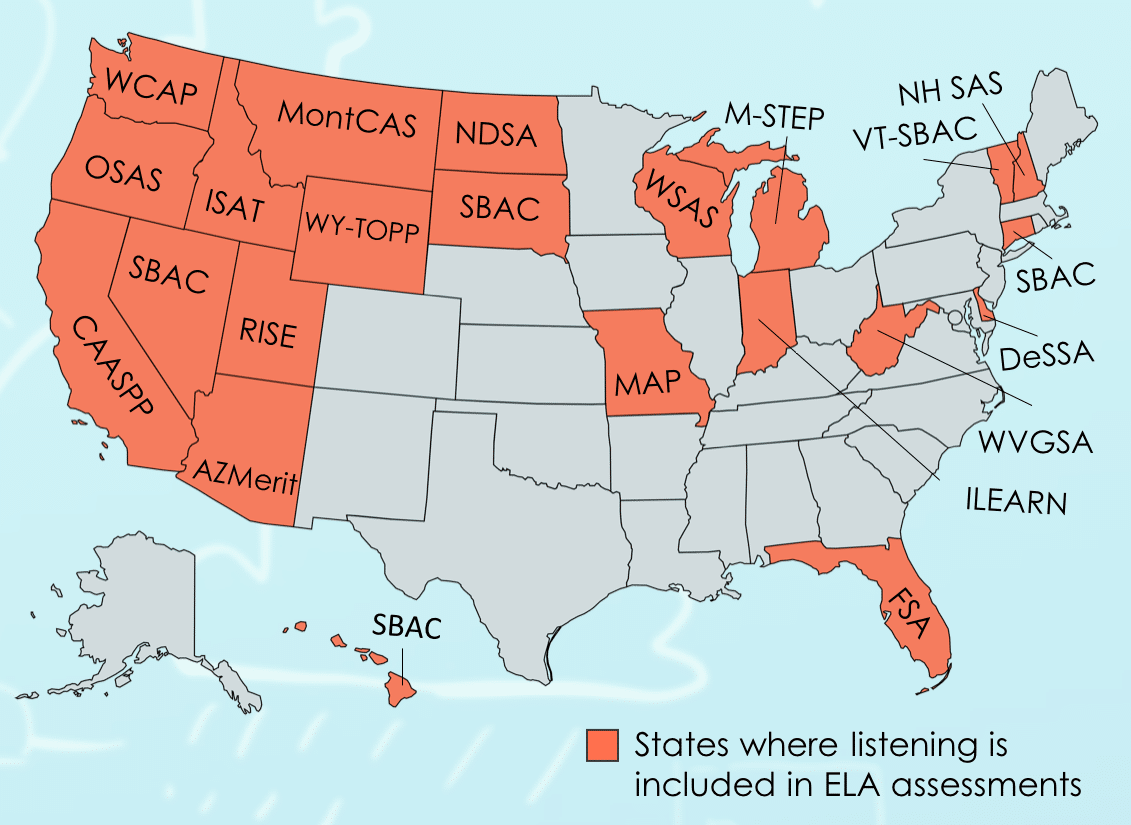 Did you know that twenty-two states now assess listening on their annual English Language Arts assessment? Notably, in Indiana, listening skills are now being tested on ILEARN, and this spring, listening is being tested as part of the English I and II assessments in Missouri. In Texas, the English Learner assessment, the TELPAS, is now bringing their listening component online, which changes the listening experience for students.
California tests listening comprehension on the CAASPP and the ELPAC, and many schools we are working with are seeing that listening is a skill that still needs a heavy instructional focus in the classroom. Just 43% of 8th and 11th graders met listening standards last year across California.
The shift we are seeing toward teaching and assessing listening makes sense because it is in line with the research on listening and learning – better listeners are better learners.
Listening skills are increasingly important to being successful in college and careers. A 2017 survey of 1,000 employers indicated that listening is the 2nd highest skill employers want from new hires. All of this means more schools and districts are looking for tools to support development of their students' listening comprehension skills. Listenwise can help to increase performance on your state listening assessments. Read how educators use Listenwise to engage their students in building listening comprehension skills…
"Listenwise has been an invaluable tool to prepare students for Listening and Speaking testing. In addition, expanding students' knowledge of current events in such an interactive way has created both anticipation and motivation in the classroom; my students can't wait for a Listenwise lesson."

-High School ELA and ESL teacher in California

---

"I love using Listenwise. I think it's really valuable. Our kids never get to practice for the listening section of the CAASPP and I think this helps it so much."

-Middle School ELA and Social Studies teacher in California

---

"I would like for everyone in our department to have access to Listenwise. I believe it is a great way to support learning across the content areas as well as provide good practice in the listening and speaking strand of our state's learning standards. I am impressed with the higher level questions offered in some of the quizzes as well as the organizers and options for students at different levels."

-Middle School ELA teacher in Missouri

---

"Listenwise has become an integral part of my curriculum. Not only does it prepare students for the listening portions of the end-of-year standardized test, but it engages students to create real learning."

-Middle School ELA teacher in California

---

"As a regular podcast listener, Listenwise does what my mind and my time cannot: curating educational and interesting segments from excellent radio programs. For ELA , Listenwise is the ideal support program for teaching the Speaking & Listening Standards here in New Jersey. While Speaking is often completed, Listening is trickier, and Listenwise — and I'm not exaggerating this — is absolutely perfect for aiding students in developing their ability to distill information from another's voice."

-High School ELA teacher in New Jersey

---

"We have found Listenwise to be an excellent tool to prepare EL students for the Listening section of the English Language Proficiency Assessment of California (ELPAC). The test requires students to listen to long passages only once and then recall information. Listenwise gives teachers the opportunity to have students practice in a group setting and individually at home. Additionally, at the high school level, students do not take the CAASPP in 9th or 10th grade, so using Listenwise at those grade levels gives students a chance to continue to interact with and attempt materials and questions similar to the test, so that they do not lose the prerequisite skill sets they need when they take the test again as juniors. Active listening is an incredibly important life skill, and Listenwise lets students practice in a way that is engaging and fun."

-High School Teacher Specialist in California

---

"Listenwise allows for my ELD students to learn to listen to recordings that align with the theme we are focused on during the quarter. It reinforces content and pushes them to make connections, all while practicing listening and thus preparing for the ELPAC."

-Middle/High School ESL and Reading instructor in California

---

"I use it 2-3 times each week to help build my English learners' listening comprehension. It's nice that the transcript is available. I use the Current Events most of all. I have seen the students' listening on their TELPAS jump up significantly, which helped my principal approve my request to continue with our subscription. I love Listenwise and my students do, too."

-Middle School ESL and Career & Tech instructor in Texas