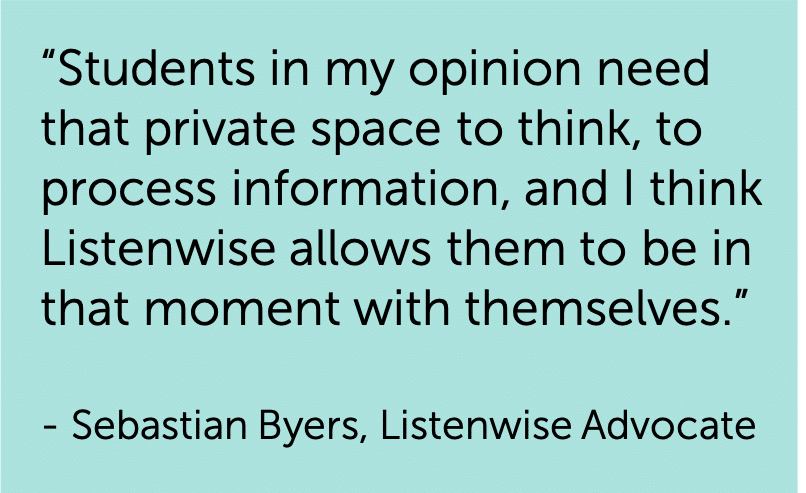 Listenwise Advocate Sebastian Byers teaches middle and high school students in the Union County Public School district in Monroe, North Carolina. He teaches in a blended online program called Union County Virtual, where he is the program's Science Teacher in Residence. We sat down with Sebastian to learn about his approach to teaching science in an online program. Listen to the audio clips below to hear about Sebastian's approach in his own words.
Currently, Sebastian is teaching AP Environmental Science to high school students and Earth & Environment, which can be taken in any grade from 8th grade to senior year. The blended classroom model means Sebastian spends each day visiting his students in various schools across Union County. But because Sebastian does not see each student every day, it's important that his online curriculum is engaging and relevant to a range of students.
"That's one of the limitations of an online course–it's the same, all the time, if you let it be." For this reason, Sebastian says he started incorporating Listenwise podcasts into his classes. "I wanted to change modalities on them."
How Sebastian Teaches with Listenwise
Sebastian adds Listenwise lessons into a module on Canvas (an online Learning Management System), where students log in and work through the lessons, quizzes, and discussion questions at their own pace. Students can listen to the audio stories as many times as needed and read along in the interactive transcript. In addition to the quizzes and discussion questions that accompany the Listenwise stories, he also likes to ask students to generate questions for themselves as they are listening. He will ask students "What questions weren't there?" or "What questions would you like to ask?" or "What are two burning questions you might have?" to help students engage more deeply with the story.
As he started to use Listenwise lessons, he found that his students really enjoyed listening to the audio stories.
The Listenwise platform includes supportive tools that students can use as needed, such as interactive transcripts, listening organizers, and TextHelp toolbar, which can help students delve deeper into the story and build their comprehension skills. These tools are especially useful for English Learners who may be challenged by the language in the story.
Sebastian also mentioned PBS LearningMedia as another resource that has helped him engage some of his reluctant students. For example, he's found that the lesson Newton's Triple Play has been popular with his students. The lesson uses baseball examples to teach Newton's three laws of motion. He says, "I had a young man who was just not feeling the science class, he just wasn't feeling it and he didn't like how much work Mr. Byers was making him do. This lesson he absolutely liked. This is the lesson that, when it kicked on, I had a science student."
High interest Listenwise science stories such as Earth's Greatest Threats, Gravity and the Curveball, and Rising Oceans Put Island Nations in Peril can help teachers get all of their students interested in science by connecting what they are learning to the world beyond the classroom. Check out our science lessons and current events for more ideas.
Using Listenwise to Personalize Learning
This touches on one advantage of online learning–it can help to level the playing field and personalize learning. "For a student who might be gifted, or a student who might be struggling, the fact that they can control their own pace is the fantastic thing about being able to learn online," Sebastian says.
Sebastian adds that online learning can allow students with differing social-emotional needs the space they need to learn.
Sebastian believes that a space for individual work is something all students need in the classroom. "Students in my opinion need that private space to think, to process information, and I think Listenwise allows them to be in that moment with themselves."
Many thanks to Sebastian for talking with us about how he uses Listenwise, and for being a valued member of our Listenwise Advocate Program. You can learn more and apply to be a Listenwise Teacher advocate here.