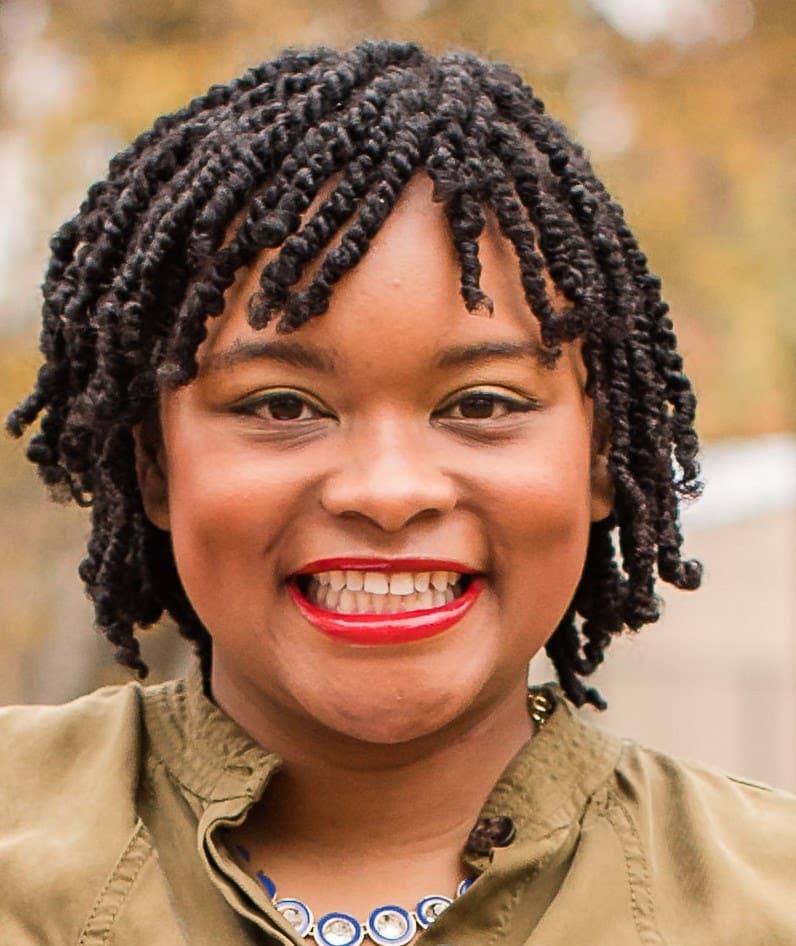 Today's guest blog is written by English Runyan. She has taught ELA at the secondary level in the Fort Worth, TX area and is pursuing an Ed.M. from Harvard Graduate School of Education. She is passionate about developing curriculum that infuses culturally conscious and responsive teaching with rigorous academic subject matter.
Having previously taught high school and junior high English, I'm working remotely as a Listenwise content development intern while in graduate school. I'm impressed by Listenwise's extensive selection of audio content, teacher- and student-focused curriculum resources, and their joyful, energetic company culture. I had not had the opportunity to experience Listenwise as a classroom teacher until recently when I taught a Listenwise lesson to three sections of 7th grade ELA at Young Women's Leadership Academy, a public school of choice in Fort Worth, Texas.
Pairing Audio and Literary Texts
I like the idea of pairing short audio texts with literary texts that are part of an ELA curriculum. To that end, I modified Listenwise's standards-aligned ELA lesson, Diversity in Children's Literature and used the featured podcast to complement the novel the class was reading, The Skin I'm In by Sharon G. Flake. I wanted the students to discover and consider the podcast's main idea – reading books with diverse characters allows more students to relate to what they are reading, promoting deeper learning.
After listening to the audio story, students participated in small group chats (via Google Meet breakout rooms) and full class discussions based on my customized comprehension and discussion questions. With the podcast's main idea in mind, students were inspired to make strong text-to-self connections with the protagonist of The Skin I'm In, a 7th grade girl like them! The students assisted me through a "write-aloud" to create a model paragraph. It incorporated MLA-formatted textual evidence and analysis to support the thesis that the protagonist's experiences are similar to their own.
I customized the questions provided by Listenwise for my particular instructional goals.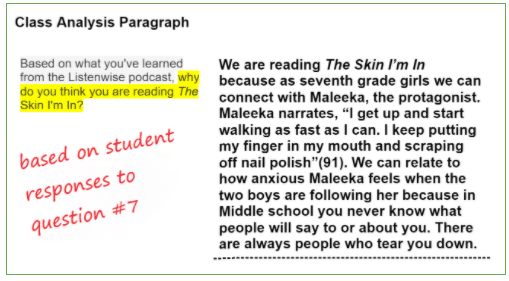 Listenwise's Benefits For New Teachers
Teaching with Listenwise reinforced for me everything the platform has to offer! In fact, my debrief with the teacher brought to light another wonderful benefit: Listenwise is a helpful resource for new teachers! The teacher I partnered with is eager to learn and improve her instruction while juggling the difficulties of first-year teacher stress – teaching and lesson planning for in-person and partially synchronous virtual instruction (thanks, COVID-19), limited curriculum guidance, and personal life responsibilities. I cringe when I remember how tough my first year of teaching was, but it pales in comparison to what new teachers are going through in 2020. Thankfully, Listenwise can help.
Having little curriculum guidance can be overwhelming for new teachers. Listenwise helps teachers efficiently search for podcasts that pair well with the texts they want or need to use. The teacher I partnered with shared with me what her students were reading and that they would soon be writing their first expository essay of the year. I Googled the novel for a summary and key themes to guide my search on Listenwise. I searched the collection using the keywords "diversity" and "relatable character," selecting filters for lessons, middle school, and quiz to narrow my search. I chose to customize the lesson's questions, but if I had not, I could have assigned the lesson (summary, podcast and transcript, questions, graphic organizer, vocabulary words, and online resource links) to students through Google Classroom in less than a minute.
A well-planned lesson helps new teachers feel confident and prevents classroom management issues that arise from lack of structure. Listenwise's standards-aligned lessons include thoughtful teacher talking points and best practices in literacy instruction that are not yet second nature for new teachers – before, during, and after reading/listening activity organization, comprehension and discussion questions (peer-to-peer interaction ✔️) prepared graphic organizers (differentiated instruction and formative assessments ✔️), and paired texts and online resources (extension and inquiry opportunities ✔️). Many Listenwise lessons include automatically graded quizzes that are standards-aligned with leveled questions, too (quick grades and usable data ✔️).
During our debrief, my new teacher partner mentioned how great it was that her sleepy first period actually had meaningful discussion about the podcast and novel during the lesson. Some of their engagement was likely because I am experienced in pushing through the awkward silence, but more importantly, Listenwise specifically curates podcasts and develops lessons to be highly interesting to students. They publish six current event stories a week, including a story with a quiz on Wednesday and a debate story on Friday. This consistency can help new teachers form routines (read one less uncertainty to worry about) to ensure relevancy.
Listenwise shares the idealism of many new teachers, but has a team of experienced professionals who make their goals reality. They are committed to covering balanced news that equitably features underrepresented populations. There is even a system in place for accountability to this commitment. During COVID-19 remote and hybrid instruction, ELA teachers new and old need equitable, engaging short texts that pack a powerful educational punch. Listenwise definitely delivers!