Lots will be different (but maybe more familiar) when you return to the classroom for this upcoming school year 2021-22. Listenwise is no exception!
We've been making Listenwise the best it can be to help accelerate learning for the new school year. Read on to learn about the Top 10 Listenwise enhancements this year!
Top 4 New Premium Features
We've Integrated with Clever Sign On
Listenwise has added Clever SSO to allow teachers to seamlessly access Listenwise without missing a moment of learning time in the classroom. You can now log into Listenwise from Clever or sign up with Clever on our Listenwise sign-up form.

Using both Google Classroom and Clever? Read about how to use both with Listenwise Premium.
2. We've Enabled Co-teaching Features
Co-teaching IRL? Then add that teacher to your Listenwise class!
Both of you can see everything and assign and review student work in your classes tab. If they're already a co-teacher in your Google Classroom, we'll just import them for you. More details are in this Support Center article.
3. We've Enhanced the TextHelp Toolbar for Spanish Translations
Wish your students could access Spanish translations of Listenwise materials when they need it? We've enhanced our Texthelp toolbar so that students can select phrases, sentences or paragraphs for translation to Spanish. Just select the text, then click the translate button. It will even read the Spanish translation aloud!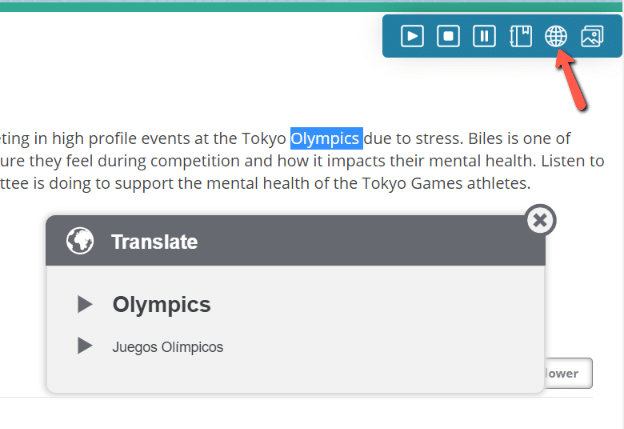 4. We've Built New Quiz Score Release Options
Having challenges with students sharing quiz answers with other students? You now have the option to release quiz answers when you want to rather than Listenwise automatically releasing them to students when they finish the quiz. If you want to use this new option just update your class settings.
Top 3 New Content Collections
We've Added LOTS More Low Lexile Podcasts
Now we have more than 1000 podcasts in our "Low" Lexile audio library! That provides lots of lessons and current events to choose from by filtering our search results for "Low" Lexile.
2. We've Sourced MORE Engaging Elementary Podcasts –
Not only have we been adding more elementary lessons, but we've also been adding new podcasters who produce amazing content for young audiences. Trying to encourage kids to develop their ideas in their writing? Listen to Story Seeds to see how the kernel of an idea can blossom into a fun story. Want to encourage inquiry and kids' natural curiosity? Kojo for Kids and Brains On! both give kids a chance to ask questions that matter to them about science and the world around them.
3. We've Curated New Thematic Podcast Collections
Youth voices are very motivating to students, so we're highlighting some of our best stories! Three new collections featuring Youth Voices are now available –

Youth Voices: Civic Engagement,
Youth Voices: Innovation & Discovery,
Youth Voices: Passions & Perspectives.
More collections are on their way to help teachers address instructional themes such as Author's Craft or Women Making History. Peruse the current thematic Collections (and make sure you are signed in)!
Top 3 Enhancements to Make Your Life Easier
Sometimes you don't need more – you need BETTER! We've been making Listenwise easier and more helpful so you can get what you need more quickly and easily.
We've Redesigned Search Filters
Too many teachers weren't finding what they needed, even though we had great resources for them in our podcast collections. Now it's easier to see which filters are applied, so you know exactly what search results you're looking at and can add or remove filters with confidence. Also, you can filter for "Quiz" (our most popular filter) with one click!
2. We've Launched a New Support Center
Explore our new Support Center! It's an all-new design with lots of new how-to articles. It's also where to go to submit a support ticket. You'll even be able to track the status of your issue. You can access the Support Center right from inside Listenwise or at https://support.listenwise.com
3. We've Enhanced Usability for Google Classroom and LMS Integrations
Teachers love the convenience of Google Classroom and LMS integrations and rely on them daily. One of the top requests was to send the raw score (e.g., 5 correct out of 6 questions) to Google Classroom instead of percentages or points out of 100 – so we've made that switch for the upcoming school year. We've also added several other tweaks to make our integrations more seamless for all users.
Which of these top 10 are your favorite? Have other enhancements to request? Let us know in the comments below!