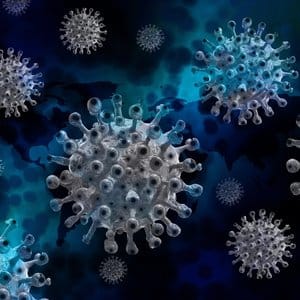 As we continue to mark milestones in the coronavirus pandemic, our understanding of the illness and its impact on many facets of society continues to evolve. In recent months, Listenwise has published a wide variety of podcast lessons to support teaching and learning about COVID-19. We have gathered here some of our most engaging and informative podcast lessons, organized by topic, along with ideas about how to use them.
Teaching Ideas
The lessons listed below by topic can be used in many different ways. Here are a few possibilities:
Quick Start Activities
Teach vocabulary using fun, relevant, 30-second "Weird News" stories about clever social distancing strategies or ways to help during the pandemic.  
Invite students to choose a relevant story and reflect on how it relates to their lives, as Erik Eve did with his 8th grade class.
Ask students to listen to a story that interests them about life during the pandemic and then write and record an audio diary entry like those submitted to the Dispatches from Quarantine project. 
Help students understand the importance of public health measures they are expected to observe inside and outside the classroom by assigning and discussing stories about pandemic dynamics, prevention, and testing. 
Promote empathy among students by assigning stories that illuminate pandemic experiences that may be unfamiliar to them or highlight ways to help.
Deeper Lessons & Projects
Ask students to engage in civil debate about relevant topics that are being discussed in the public discourse, such as whether masks should be required by law or whether surveillance technology should be used for contact tracing.
Deepen students' understanding of civic, economic, or social institutions such as voting, food supply chains, or public education by exploring the impact of the pandemic on those institutions through audio stories that feature community voices.
Set up a jigsaw activity where small groups of students listen to different stories and then teach each other what they learned.
Design a research project in which students choose an aspect of the pandemic to investigate, starting with audio stories on the topic, and then present their findings to the class.
Note: Many podcast stories with outdated statistics contain information and ideas that remain relevant to understanding the pandemic, including virus transmission rates and prevention strategies, immunology research, public health disparities, and disruptions to daily life. It is also important, of course, to attend to students' social and emotional health when teaching about the pandemic, which may have created hardships for them. Further guidance is offered in additional resources below.
Science & Public Health
These stories can help to explain the science behind the pandemic, including how it spreads through the population and what can be done to limit that spread.
Pandemic Dynamics
Understanding Coronavirus Mutation (1/26/21)
The Role of Superspreader Events in Coronavirus Transmission (10/8/20)
The U.S. Sets New World Record in COVID-19 Cases (8/24/20)
Pandemic Expansion in the U.S. (8/10/20)
The Silent Spread of COVID-19 (8/5/20)
COVID-19 Cases Continue to Rise (7/1/20)
Flattening the Curve of Infection's Spread (3/16/20)
Understanding Coronavirus (elementary lesson)
Prevention
Debate: Should Businesses Be Allowed to Decide Their Mask Policies? (3/26/21)
COVID-19 Vaccine Works for Kids (4/12/21)
Teachers Getting Vaccinated (3/8/21)
Rollout of COVID-19 Vaccine Begins (12/21/20)
Why Vaccines Need to Be Frozen (11/30/20)
COVID-19 Vaccine Trials Look Promising (11/16/20)
Testing COVID-19 Vaccines on Humans (11/3/20)
Fresh Air Can Prevent Coronavirus Transmission (9/14/20)
Debate: Should Masks Be Required by Law? (9/4/20)
The Importance of Masks (7/27/20)
Sheltering in Place Has Saved Millions of Lives (6/22/20)
Safety Tips for Resuming Contact (5/18/20)
COVID-19 Vaccine in Development (3/23/20)
Weird News: Safe Hugs with Grandma (8/16/20)
Weird News: Social Distancing Shoes (8/9/20)
Weird News: Chalk Drawings Encourage Social Distancing (3/24/20)
Weird News: Alligators Help with Social Distancing (4/19/20)
Testing & Containment
The Limits of Antibody Testing (6/1/20)
How Contact Tracing Works (5/11/20)
Debate: Should Surveillance Technology Be Used for Contact Tracing (5/8/20)
Dogs Trained to Detect Virus (5/27/20)
The Importance of COVID-19 Testing (3/30/20)
Leadership
Pandemic Relief Is On the Way (3/22/21)
The Biden Administration's COVID-19 Plan (2/2/21)
COVID-19 Advisory Board Looks Ahead (11/23/20)
Leadership Advice from a Military General (5/28/20)
The Role of the WHO (5/7/20)
World Leadership During the Pandemic (7/6/20)
Debate: Should the Federal Government Manage the Pandemic Response? (5/15/20)
Social & Community Impact
These stories explore the many ways that COVID-19 has impacted society, including the education system, fashion, sports, and economic security. It has drawn attention to issues of equity and created challenges to civic engagement. It has also created opportunities and fostered understanding of the complex ways in which our global society is interconnected.
Education
Debate: Should Kids Go to School All Year Round? (4/9/21)
New CDC Guidance for Schools (3/29/21)
High School Sports Resume (3/18/21)
Debate: Should Learning Time Extend into the Summer? (2/19/21)
Remote Snow Day (2/11/21)
School Sports During the Pandemic (12/17/20)
The Dilemmas of Reopening Schools (7/22/20)
Kids' Reflections on the Pandemic (5/12/20)
Debate: Should College Athletes Play if Students Are Not on Campus? (9/11/20)
Weird News: Students Design Minecraft School (4/12/20)
Economy
9-Year-Old Journalist Supports Food Banks (3/3/21)
Weird News: Woman Cooks 1,200 Lasagnas for Neighbors (2/21/21)
Workers Organize for Better Conditions (2/16/21)
Debate: Should Theme Parks Reopen? (12/11/20)
Yellowstone Park Begins to Reopen (6/4/20)
Free Potatoes and the Disrupted Food Supply Chain (5/21/20)
Coping Without a Job During the Pandemic (4/30/20)
Booming Business at Toilet Paper Company (4/16/20)
Debate: Should Companies Offer Paid Sick Leave During the Pandemic (4/10/20)
Grocery Cashiers on the Front Lines (4/2/20)
Weird News: Sandwich Support Saves Diner (9/13/20)
Weird News: Eating French Fries for the Economy (6/7/20)
Equity
Teens Deliver PPE to Health Care Workers (1/6/21)
Debate: Should Broadband Access Be a Universal Right? (12/4/20)
The Impact of COVID-19 on the Latinx Community (9/21/20)
Addressing Health Care Inequities (5/14/20)
Caravans for Justice (6/17/20)
Student Volunteers Help Elderly Neighbors (4/22/20)
Weird News: Teens Grocery Shop for Elderly (8/23/20)
Culture
Weird News: No Screaming Allowed (4/18/21)
Debate: Should the Tokyo Summer Olympics Be Held in 2021? (2/26/21)
Mardi Gras Moves to House Floats (2/9/21)
How the Pandemic May Influence Fashion (5/20/20)
Handshakes May Be History (4/29/20)
Bicycles Bring Freedom for Women in Pakistan (6/11/20)
The Return of Drive-in Movies (8/26/20)
Olympic Athletes Change Plans (8/27/20)
Weird News: Coronavirus Hairstyle (7/5/20)
Weird News: Robotic Baseball Fans (5/17/20)
Environment
Zoos Reopening (9/2/20)
Caring for Zoo Animals (4/8/20)
View of Earth from the International Space Station (7/20/20)
Returning to a Different Earth from Space (5/6/20)
Researchers Bring Lab Animals Home (6/3/20)
The Pandemic's Impact on the Environment (4/21/20)
Politics
Debate: Are Religious Freedom and Public Safety in Conflict? (12/18/20)
Concerns about the 2020 Election (9/10/20)
Getting Ready for Voting in a Pandemic (8/25/20)
NBA Teams Offer Polling Places (7/15/20)
Debate: Should Voting Procedures Change During a Pandemic? (5/1/20)
Debate: Do Citizens Have a Right to Protect Themselves from the Pandemic? (5/29/20)
Additional Resources
Have you used one or more of our Listenwise stories related to the COVID-19 pandemic? Please share how you used them in the comments below!